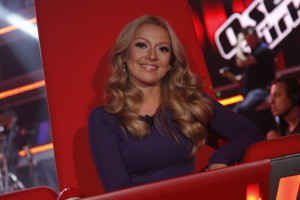 Former Turkish representative Hadise, who gave Turkey a fourth place at the Eurovision Song Contest, behaved scandalously as a member of the jury panel in the latest episode of The Voice of Turkey when she failed to recognise theTurkish representative from 2001, Sedat Yüce.
Four episodes of The Voice of Turkey have already been broadcast in the country, with one major name,
Hadise, on the jury seat. In the last episode of The Voice of Turkey, viewers were agog to see former representative Sedat Yüce performing. Yüce had successfully represented his homeland at the Eurovision Song Contest in Copenhagen, 2001 where he achieved 11th place with his song Sevgiliye Son. Yüce also performed in the last Turkish national final which was held in 2005, but unfortunately failed to win the ticket to Kiev.
Although Sedat Yüce could be described as a lost talent by some music experts, his performance on The Voice of Turkey stage was competent enough to curry favour with the audience in the hall but not the jury members. An even bigger shock occurred when it came to the turn of the jury members to give their opinions on Yüce's performance. None of jury recognised him from the Eurovision Song Contest. When Hadise gave her tuppence worth, she went on to humiliate him with her painful words: 'I don't want to continue competing with a voice like yours', going on to say 'I don't even want to see you in my team.' 
Hadise's unfortunate tirade created quite a storm with Turkish viewers and fan groups with the OGAE branding her outburst as scandalous. Sedat, on the other hand, took things in his stride: "It was just another event and he doesn't really care about what the four jury members think, with fans claiming that the jury was at fault, not Sedat" it was said after the show on his official Facebook page.
Sedat, 35, completed his education at the National Conservatory taking a master grade for trumpet. He was also interested in Latin, jazz and pop music. He describes himself not only as a singer, but also a complete musician. He unfortunately has not released any singles or albums up to now, and according to his statements, he attended the Voice of Turkey event to show his fans that has not finished his duty to music.
Below, you can watch Sedat Yüce's performance and jury reactions at The Voice of Turkey. You can also listen to his memorable song Sevgiliye Son.