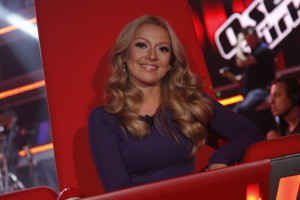 Former Turkish participant Hadise, who came 4th at the Eurovision Song Contest in 2009, is back on the TV screens as a jury member in the contest called O Ses Türkiye (The Voice Of Turkey). Murat Boz, who has been suggested for the past three Eurovision Song Contests, is also a jury member.
Hadise who was chosen internally, represented her country at the Eurovision Song Contest in 2009 with the song Düm Tek Tek, receiving a succesful 4th place. Thought this result was interpreted as a failure more than a success by some Turkish music experts, Hadise continues standing strong in her career.
After the Turkish/Belgian Hadise promoted her latest album Aşk Kaç Beden Giyer, she is back on the screen in the reality entertainment show called O Ses Türkiye (The Voice Of Turkey). Another succesful name Murat Boz who has also been suggested to represent Turkey at the Eurovision Song Contest the past three years also takes part in this show where he as another jury member compete against Hadise. The other jury members are veteran singer Hülya Avşar and famous popstar Mustafa Sandal who is married to former national finalist Serbian Emina Jahovic. She "lost" her Eurovision ticket to Milan Stankovic in the Serbian national selection in 2008.
"The Voice Of Turkey" is based on the Dutch format The Voice Of Holland. In the Netherlands they are now in its second season. Jeroen van der Boom, who stepped in as one third of The Toppers who represented their country at the 2009 Eurovision Song Contest, was one of the judges in the first season.
The format: The juries are also the coaches who will be seated, facing away from the performers. With this way they have to rely on the voice alone as they won't be watching the performance, only listening. If they like what they hear they push the button and turn around, thereby make
a claim on that singer. If more than one coach chooses a contestant he or she gets to
choose which mentor they want. The teams faces each others every week to win the biggest prize.
The Voice Of Turkey was aired last night and the show is already highly rated on social medias. You can also watch last night's episode by visiting the producers official webiste. Below you can see the trailer for the show.
Links