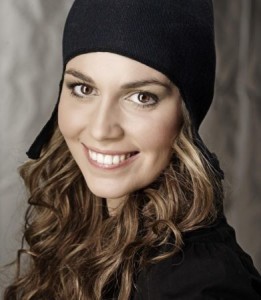 Maya Sar represented Bosnia and Herzegovina at the 2012 Eurovision Song Contest.  Last year she released her album Krive Riječi.  She has recently released a new single from the album and presented a new video clip for O meni nikom ne pričaj.
Maya Sar won a lot of support and praise for her performance at the 2012 Eurovision Song Contest in Baku with her song, Korake ti znam.  Her beautiful ballad qualified from the second semi final and finished eventually in 18th place in the final.
Maya has worked with many famous Balkan singers such as Dino Merlin and Toni Cetinski before embarking on her solo musical career.  Infact, she played keyboards on the Eurovision stage for the Bosnian entry in 2001 for Dino's Love In Rewind.
Maya released her album, Krive Riječi, in October 2012.  She has now released a track from the album for her new single. It is called O meni nikom ne pričaj  (talk about nobody). It features Marijan Brkic Brk on the song. She has also recorded a promotional video for the track.  The music and lyrics are by Maya herself and the musical arrangements are by Mahir Sarihodzic (Maya's husband).
You can see the video for O meni nikom ne pričaj below.
You may also like to read –