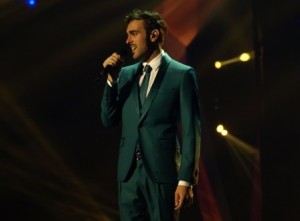 Just returned from Malmö after his great success at the Eurovision Song Contest where he achieved the 7th position for Italy, Marco Mengoni continues promoting his latest album #PRONTOACORRERE. Seeing the high number of tickets sold he has recently announced additional dates to please all his fans.
To Marco Mengoni, this is being a year full of success. After representing Italy at the 2013 Eurovision Song Contest where he achieved the seventh position becoming the only performer from a Big 5 country to get into the top 15, his concert tour which is taking him all around his home country is in now full swing.
In Italy, an average of 1,878,000 people watched the Grand Final of the Eurovision Song Contest on Saturday night with a market share of 9.17%. Compared to last year when an average of 1,410,000 people watched the show it means that Marco managed to bring 468,000 extra viewers, something that was expected since he has become one of the most popular artists in Italy.
His song Pronto A Correre is playing on almost all the radio stations and his album continues in the high positions of the sales charts. To cope with the continuing demand for tickets after the first triumphal shows in Milan, Turin and Genoa, the winner of the Sanremo Festival has now announced some new dates of L'Essenziale Tour where he presents his latest album which came out last March entitled #PRONTOACORRERE which features fifteen new songs including his Eurovision entry.
On stage alongside Marco there will be some extraordinary musicians such as Luca Colombo, musical director; Gianluca Ballarin and Andrea Pollio playing keyboards; Giovanni Pallotti on bass, Peter Crow on guitar and David Sollazzi as drummer.
Below you have the full list of upcoming tour dates and cities for Marco Mengoni:
L'ESSENZIALE PREVIOUS TOUR 2013
May 24 PADUA – Gran Teatro Geox
May 26 NAPLES – Teatro Augusteo
May 27 ANCONA – Teatro Delle Muse
May 29 ROMA – Auditorium Parco della Musica
May 30 BOLOGNA – Europauditorium
June 1 TRIESTE – Teatro Rossetti
L'ESSENZIALE TOUR 2013
July 4 Trento – Piazza Fiera
July 6 Piazzola sul Brenta (PD) – Anfiteatro Camerini
July 8 BRESCIA – Piazza della Loggia
July 10 SIENA – Piazza Duomo
July 20 GOVONE (CN) – La Collina degli Elfi
July 27 CERVIA (RA) – Piazza Garibaldi
August 4 Paestum (SA) – Teatro Dei Templi
August 6 CAGLIARI – Arena Sant'Elia
August 10 VILLAPIANA (CS) – Anfiteatro
August 13 Bolgheri (LI) – Arena della Rocchetta
August 18 MACERATA – Sferisterio
August 19 Pescara – Teatro D'Annunzio
August 26 Taormina (ME) – Teatro Antico
August 27 PALERMO – Teatro di Verdura
August 31 VERONA – Teatro Romano
September 25 MILAN – Teatro degli Arcimboldi
September 26 MILAN – Teatro degli Arcimboldi
September 28 ROME – Gran Teatro
October 1 BOLOGNA – Europauditorium
October 9 NAPLES – Teatro Augusteo
October 11 FLORENCE – Teatro Verdi
October 12 TORINO – Teatro Colosseo
You might also want to read:
Below you can watch our 3D video of Marco Mengoni performing his 2013 Eurovision Song Contest entry L'Essenziale. As always, we strongly recommend watching this video in 3D, as it was recorded, to enjoy it to its fullest, but if you do not have a pair of suitable glasses this can easily be turned off in the player below for regular 2D watching.