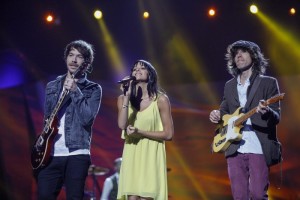 This year's Eurovision Song Contest was watched by 5.3 million viewers on TVE which means a market share of 33.1%. These numbers are great for Spanish standard, however, compared to last year's final it has lost more than a million viewers. Raquel del Rosario, ESDM, talks openly about their experience as well.
According to the public broadcaster, a total of 16 million people watched the Eurovision Song Contest at some point and it was the most watched television program on Saturday. The highest number of viewers was counted during the voting time at 23.51 CET with 6.9 million people waiting to know the name of the winner, which turned out to be Emmelie de Forest from Denmark.
The performance of the Spanish representatives, El Sueño de Morfeo, which took place at 21.30 CET was followed by 4.7 million people. Regarding the second semi-final, which was broadcast by the second channel of TVE on Thursday evening, it was watched just by 492.000 viewers.
Last year's result gave some hope to the Spanish Eurovision fans when Pastora Soler got a 10th place, but this year they all knew that the Spanish dream was virtually impossible. ESDM ended second last in the scoreboard with eight points and, speaking about the Spanish history at the Eurovision Song Contest, it is true that in the past Spain has had times when it has not received any point but it has never been so distanced from the winning song, exactly 24 positions and 273 points.
The lead vocalist of the band, Raquel del Rosario, wanted to share how she feels after the Eurovision Song Contest through her blog. She says that she would not change anything of this experience which has been great professionally and personally. It has been six months since they received the proposal to represent Spain and they accepted this challenge with enthusiasm knowing the risk of finishing in a bad position and then having to deal with harmful headlines about their "failure". She has decided to be critical with herself and she confesses that she was very nervous during the first seconds of the performance and the sound mix was not the best after so much hard work.
You might also want to read:

Below you can watch our 3D video of El Sueño de Morfeo performing their 2013 Eurovision Song Contest entry Contigo Hasta El Final. As always, we strongly recommend watching this video in 3D, as it was recorded, to enjoy it to its fullest, but if you do not have a pair of suitable glasses this can easily be turned off in the player below for regular 2D watching.