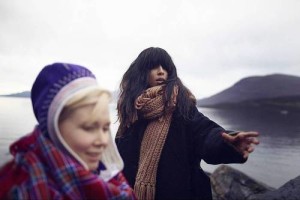 Spoof EBU spokesperson Lynda Woodruff took viewers on a trip to the frozen north of Sweden as part of this year's Eurovision, treating us to glimpses of dog sledding and ice hotels. Former winner Loreen has recently followed in her footsteps, but her trip was more business than pleasure as part of an exciting musical project the star has been working on.
After winning the Eurovision Song Contest in 2012 with Euphoria, Loreen has been invited to all kinds of exotic places. The latest place she can add to her list is the remote village of Vássijávri, close to the Norwegian border with not much more than an old, disused railway station. It was here the star took part in a project that SVT have turned into a television series, called The Sápmi Sessions. The series first aired back in 2011 and broadcaster SVT recently revealed the line up of artists that will feature in the newest series, featuring none other than Loreen. Shooting of the series has only just come to an end and will be broadcast in early 2014.
The concept behind the series is to take established artists, sending them to the far north to work on a song together with a selected Sámi artist and all in a matter of three days. Loreen was paired up with singer Ingá-Máret Gaup Juuso, the result of which will be aired in a matter of months. The artist was left in awe after the whole experience, clearly enjoying the remoteness of the place: "It was overwhelming to be able to create and produce music in such a remote, quite place like Vássijávri. It's definitely one of the most beautiful places I've been too and there I got to work with some of the sharpest, most creative minds I've ever had the pleasure of working with. The whole experience gave me the opportunity to search deep inside myself" she told Swedish media before she went on to praise the Sámi people for their attitudes: "Respect where it's due to the Sámi people and their knowledge. We have a lot to learn from them, especially in the way they treat their natural resources", she told tabloid Aftonbladet.
Other artistic couplings to feature in the seven episode series are amongst others Ane Brun and Mari Boine, Boine being the biggest Sámi artist worldwide, with a global new age music following and Mohammed Ali, a hip hop duo from the Stockholm area who will be working together with Slincraze, otherwise known as Nils Rune Utsi, a Norwegian-Sámi rapper. Will Loreen incorporate the joik (last heard at Eurovision in the 1980 Norwegian Eurovision entry Sámiid Ædnan) into her latest work? Viewers will have to wait a few months to see the end result – patience, all will be revealed!
You might also like to read: