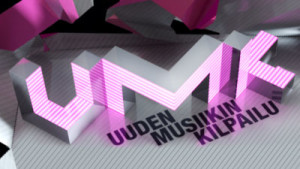 The Finnish national broadcaster YLE has announced that 420 songs have been submitted for participation in the 2014 selection of Uuden Musiikun Kilpailu. The broadcaster also revealed the dates of the selection as well as more information about the process leading to the Finish Eurovision representative.
Having 420 songs applied to particpate in YLE's national selection pleased the Finnish national broadcaster, who said that they are expecting a challenging competition. The selection process will start on December 28th. Up to that date, a special jury will narrow down the 420 acts to 12 hopefulls who will be announced on November 4th. It was also mentioned that the submitted entries are from well known established names as well as young newcomers.
The 12 acts will in five different heats try to make it to the final of the selection where it will be decided who gets the Finnish ticket for Cophenagen in May 2014.
The dates of the Uuden Musiikin Kilpailu are as follows:
November 4th: Announcement of Participating Acts
December 10th: Special Introduction Press Event
December 28th: Heat 1
January 4th: Heat 2
January 11th: Heat 3
January 18th: Heat 4
January 25th: Heat 5
February 1st: Final
Finland joined the family of Eurovision in 1961 for the very first time and the country took the glory in 2006 with Lordy's Hard Rock Hallelujah. Last year Krista Siegfriends represented her country with the song Marry Me that qualified for the final though the final placing was not too high. 
You might also want to read:
Click on the video below to see Krista Siegfriend's performance recorded using
Eurovisionary's ground-breaking 3D technology. It can easily be turned
off in the player, giving you a standard 2D image. If you do not yet
have a pair of suitable glasses we recommend getting hold of EuroVisionary's 3D glasses.