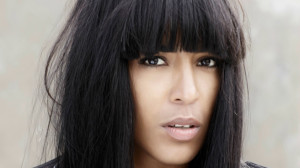 Swedish superstar and 2012 Eurovision winner Loreen has had an eventful, whirlwind year. You'd have thought that with all that has happened, she'd be in need of some respite? On the contrary, as the singer revealed yesterday, she is already preparing to record her new album!
Since her victorious performance on a balmy Baku night back in May last year, Loreen has been a name on many lips. Her single, Euphoria has gone on to be one of the biggest hits to emerge from the contest in a long time, topping the charts in no fewer than seventeen European countries and charting in many more. And as if that wasn't enough, the charismatic singer has even more reason to be euphoric – Euphoria was the not only the biggest seling single of the year on Spotify, but it also topped the rankings of the best selling single of the year in Sweden. "It's been an amazing year where I've learned so much" Loreen tells Swedish daily Expressen. "There've been so many new things, and I've learned so much about myself, and just how quickly things can change", she tells. And just how is she planning to celebrate her triumph? By going into to the studio to record new material for her new album!
The album, which is planned for release early in the autumn is by all accounts a new musical chapter following her breakthrough onto the international market. The singer intends to start recording new material already, saying that "I like to feel as if I have control, to be ahead. So even though the release of the album won't be until the autumn, I want to begin work on it now." When asked about what direction the new music will take, she comments "At the moment, I'm really into experimenting with the production, much more than I've done previously, because I have the time to do it right now. I don't want to programme lots of pre recorded effects and sounds, rather create and that takes time."
Parallel to working on her forthcoming album, the star is looking at a busy schedule, with amongst other things a trip to Japan, where they've just recently caught on to Euphoria. If travelling to such far flung places will disrupt her creative process? On the contrary!: "Things that happen around me and the people I meet are what inspire me and drive me to create. Sometimes things can just get too intense, holed up in a recording studio for days on end. It's good to take a break to do something else and to be able to look back at what I've accomplished" she tells Expressen.
Her current album Heal has been a great success for the artist, selling to platinum status in her native Sweden and producing three other hits besides the Eurovision winner; My Heart is Refusing Me from Melodifestivalen 2011 and the follow up single Sober as well as the follow up single to Euphoria, Crying Out Your Name. The album has also charted in nine other European territories, so hopefully the difficult second album is a piece of cake for Loreen to create and judging by her comments, she appears to be throroughly enjoying the process.
You might also like to read: