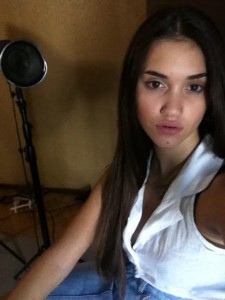 Liza Kenia, former member of Georgian Junior Eurovision Group Princesses, will perform at a special charity concert in Batumi, Georgia on 15 September.  The concert is in aid of a small girl suffering from leukaemia and it is hoped to raise a lot of funds to help her.
It was four years ago that Liza Kenia took to the Junior Eurovision stage with Group Princesses and the song, Blue Bird. She has since gone on to some solo success in her homeland and was a finalist this year at the The Voice Kids Georgia competition.
Liza has been working on several solo songs and is planning to enter the main Eurovision if she finds the right song. In the meantime Liza will take to the stage in Batumi and perform at this important charity event.  Many other singers and actors will contribute to the entertainment including Liza's mother, Maia Jabua, who is a very famous singer in Georgia.
Liza will sing several songs in her native Georgian language and also the popular song, Someone Like You, by Adele. You can hear more Liza's songs and see some performances on her own You Tube site.
You can see Liza perform All By Myself made famous by Celine Dion and originally by Eric Carmen below from The Voice Kids Georgia.
You may also like to read –