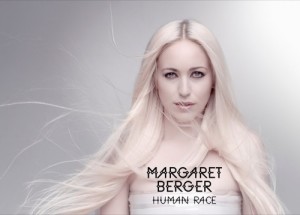 Ice maiden and purveyor of chilled Nordic electronica Margaret Berger is back. After reaches a triumphant fourth place at this year's Eurovision Song Contest with I Feed You My Love, the time has come to release her follow up single, Human Race.
Whereas some artists who participated at this year's contest in Malmö wasted no time in releasing follow up singles to their Eurovision entries, Norway's Margaret Berger has done things her way, using the time to record and put the finishing touches to her next single, Human Race. The single was released yesterday and is the second to be lifted off her forthcoming album, Chastisement building further on the momentum she managed to create with her dazzling performance back in May.
Gone is the slicked back platinum hair and long plait in favour of flowing locks, giving Ms Berger an altogether more ethereal look. Some elements used in I Give You My Love are still to be found in Human Race, namely a stripped, minimalist sound over a driving beat, but we're also treated to new sounds and a new side of the artist. On the new single, clearly audible ethnic elements can be heard which work well with the uptempo beat, making this an altogether more dance friendly affair.
The lyrics of Human Race are dark and brooding, just like its predecessor. They deal with the longing to revert back to her childhood, the realisation of the loss of innocence and the desparation that ensues as well as the desire to leave it all behind. Three of the four writers behind her Malmö entry have worked together on the newest track; Robin Lynch, Nicklas Olovsson as well as Margaret herself.
Chastisement will be Margaret's third studio album, scheduled for release later in the year and which will be the follow up to her last release, Pretty Scary Silver Fairy, which saw chart action some seven years ago, reaching #8 on the Norwegian album charts. The song Human Race can be heard in full below.
You might also like to read: