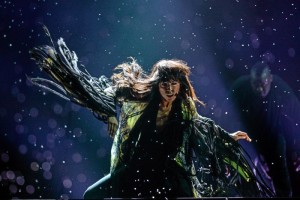 Last year's Eurovision Song Contest winner Euphoria by Loreen sold well in Denmark. So well that it ended up being the 7th best selling song of the year in the country that went on to winning this year's contest. Some compilation albums from previous Eurovision participants also sold well. 
The recently published lists of the best selling songs and albums from the entire 2012 features a few interesting names for fans of the Eurovision Song Contest. Most noticable is Loreen's Euphoria which has placed itself as the 7th best selling song of the year. 
On the list of best selling albums in Denmark in 2012 we find both the official Danish Junior album; M:G:P and also the album that features all the entries from the Danish final, Dansk Melodi Grand Prix. Their placings however clearly shows that the junior show as always is a best seller in Denmark. We find that album as third best selling album of the year while the adult show is down at #92.
A few more interesting names on the 2012 Album top100 are: #4 Kim Larsen's Du Glade Verden (Dansk Melodi Grand Prix 1978), #18 Kandis' Kandis 15 (Dansk Melodi Grand Prix 2001 and 2005), #49 Julio Iglesias' 1 (Eurovision Song Contest 1970 for Spain), #60 Flemming Bamse Jørgensen's De Store Og De Glemte (Eurovision Song Contest 1980 for Denmark) and #67 Sanne Salomonsen's Tiden Brænder (Melodifestivalen 2005).
You might also want to read: