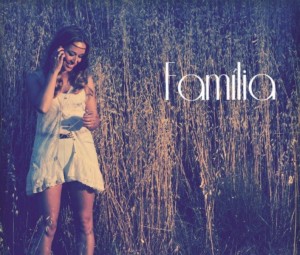 The good vibes and the optimism are present in all the songs from this new album. Família, whose songs are sung in the Catalan language and which is set to be released in mid-September. This first single is the kind that makes you feel happy and perfect to start the day off right.
Elisabeth Rodergas, known as Beth, is the girl with the crisp voice who shot to fame ten years ago when she competed in the talent show called Operación Triunfo. She was one of the three finalists thus getting the chance to represent Spain at the 2003 Eurovision Song Contest with the song Dime. At that time, she released her first album entitled Otra Realidad (Another Reality) which became number one on the charts getting the double platinum certification.
This was the beginning of her musical career which has had its ups and downs that have led to Beth to focus her career to a different course working as a television host in the regional channel of Catalonia, as an actress and also as a clothing designer since she has even designed her own collection of children's clothing.
Three years after what was her most successful period, in 2006 she released her second album with songs in English and in 2010 she dared to record an album with songs in the Catalan language. Her new album, entitled Família, which means Family, is scheduled to be released on September 17 and it follows in the footsteps of its predecessor since all the songs are sung in Catalan which is the co-official language of the Spanish autonomous community of Catalonia where she was born and raised.
The first single entitled Ara I Aquí (Here And Now) and its official video have been presented this week. It is a song with a lot of rhythm and good vibes and in the video we can see her singing and dancing cheerfully, all with a vintage aesthetics. She is accompanied by some members of the cast from the children's musical theatre called La Dona Vinguda Del Futur (The Woman Who Comes From The Future) which was staged last spring at the National Theatre of Catalonia with Beth as the protagonist.
You can watch the official video of Ara I Aquí below: