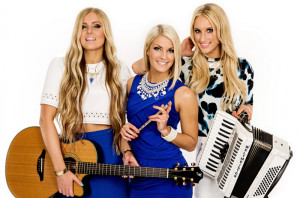 Girl group Timoteij launched their career when they participated in the 2010 Melodifestivalen final with the folk pop dancefloor stomper Kom. They're still going strong, but recently announced they have become a trio before they set their sights on winning over the Far East.
The four girls Cecilia Kallin, Bodil Bergström, Elina Thorsell and Johanna Pettersson formed the folk-pop group Timoteij in 2008, before shooting to stardom after having participated in the final of Melodifestivalen in 2010 with Kom. They reached a highly respectable fifth place. A smash hit album Längtan (Longing) was released that same year, topping the Swedish charts. They continued to record and release music in a similar vein to Kom, again participating in Melodifestivalen two years later with Stormande Hav (Stormy Sea), but failed to make it to the final, being eliminated in the second chance round. A follow up album Tabu (Taboo) appeared in 2012, but their time as a fourpiece now seems to be over with the recent announcement that Johanna Pettersson has left the group.
The announcement comes after much soul searching within the group, and the decision behind Pettersson's departure has been an amicable one. Cecilia Kallin spoke to Swedish media of the recent change in the line up of Timoteij, saying that: "It's been difficult. Johanna didn't want to achieve as much as the rest of us. That doesn't make things easy when we felt that we wanted to take things further. Because we didn't quite see eye to eye on the matter caused great tensions within the group."
The remaining three members will continue to use the name Timoteij and the decision to continue as a trio was made just after their Christmas tour. According to the trio, the split had been on the cards for quite some time, with Johanna wishing to turn her energy to dancing instead. The three have taken a short time out from music to reflect on just where they want to take Timoteij before coming together once more. They are now currently working away in the studio on new material and have set their sights upon breaking the Chinese market, a market which Cecilia, Bodil and Elina believe they are well suited to.
You might also like to read: