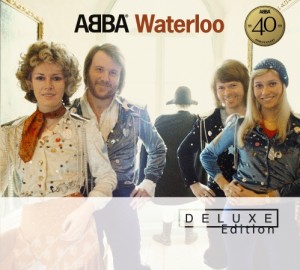 Today the four members of the Swedish pop group ABBA can celebrate 40 years anniversary for their succesful Eurovision Song Contest winner, Waterloo. It is being marked with a special CD and DVD box containing previous non released material.
On the 9th of April this spring it is exactly 40 years ago ABBA won the Eurovision Song Contest with the song Waterloo, but fans of the popular Swedish pop group that went on to accieving worldwide fame in the years after, can start the celebrations two days earlier. The box "Waterloo 40 years anniversary Deluxe Edition" is set to be released on the 7th of April.
The box contains a CD and a DVD plus a 20 pages booklet, and it includes a lot of previously unreleased material and as such it will probably become a collector item for fans.
First disc in the box is a CD containing the original Waterloo album plus eight special editions: Waterloo in Swedish, German and French, an alternative mix of the English version, the Swedish version of Honey Honey, the remix of Ring Ring released on the American Waterloo album, the single remix of the same song released in the UK and the Spanish version of Hasta Mañana. 
Second disc is a DVD with TV performances and it is here we find the unreleased material, of which some is quite rare. It also contains the well known Waterloo performances from Melodifestivalen and the Eurovision Song Contest, in both first performance as well as winner performance. Included is also: A performance of Waterloo intended for the Eurovision preview programme, a German language performance, ABBA's three appearances on "Top Of The Pops" performing Waterloo and interviews with Frida and ABBA's manager Stig Anderson on Eurovision night plus also three performances of Honey Honey from German and Austrian broadcasters.
The 20 pages booklet is illustrated and features an in deph essay on the making of the album. This includes new insights from Björn and Benny.
ABBA as a group was founded in the early '70's by Benny Andersson and Björn Ulvæus and the two girls Anni-Frid Lyngstad (Frida) and Agnetha Fältskog, who also became their partners privatly. The group participated in the Swedish national selection in 1973 with Ring Ring, which ended third. The year after we got Waterloo, which became a hit after winning the Eurovision Song Contest, but it wasn't until 1976 and the single S.O.S that their career as ABBA really kicked off making them the second best selling band in history, only beaten by The Beatles.
ABBA's last single, Under Attack, was released in 1982 and in 1986 they had their last performance together as a group. In 2005 at the Eurovision Song Contest Anniversary show Waterloo was awarded as best Eurovision entry ever.
Below you find links to order this special Waterloo box.