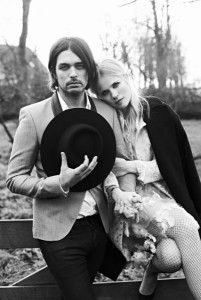 Anouk restored some national pride in the Netherlands last year by taking the Dutch back to the final and the top ten for the first time in fourteen years. Hopes are high in Camp Holland this year too, and TROS are to air a unique documentary this coming Wednesday featuring this year's entrants The Common Linnets.
Broadcaster TROS announced a few days ago that they are to show a 2 hour special documentary following the two artists that make up the Common Linnets,
Waylon
and
Ilse DeLange
. Marcel de Vré is the man behind the two hour special that will feature exclusive behind the scenes footage. De Vré has made similar music documentaries previously, following the Dutch acts Golden Earring and The Nits.
Fans of the duo will be given the chance to get up close and personal with the two during their preparations for the forthcoming Eurovision Song Contest in Copenhagen. De Vré spent time with the two as they secretly worked away on their upcoming album both in Nashville and the Ardennes.
The creative process of the two will be in full focus, giving viewers the opportunity to see just how some of their songs came about and a number of the duo's songs will also be featured in the programme. The news that the two would be this year's dutch entry to the Eurovision Song Contest and all of the implications that followed the announcement will also form an integral part of the TV special. Waylon was reported to be working on his upcoming solo album Heaven after midnight, the release date of which had to be put back significantly as a result of his involvement with The Common Linnets and Eurovision.
The special The Common Linnets – Calm before the storm will be shown on the NED3 channel on the 16th of April at 20:25 CET. In the meantime, you can enjoy the music video of Calm after the storm below.
You might also like to read: