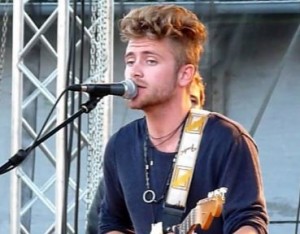 Today it was announced that 2011 Eurovision participant Tim Schou will host this year's Euroclub held at Copenhagen's nightclub Vega. From this position he will entertain the participants, press and the accreditated fans. 2007 Danish representative, DQ, will be involved as well.
A week ago Euro Fan Café revealed a star packed entertainment programme with concerts, cinema and various talkshows and quizzes. And now, Euroclub is showing that they will offer just as much fun during the two Eurovision weeks that starts in Copenhagen on the 28th of April.
Tim Schou will be the official host on Euroclub. He represented Denmark at the 2011 Eurovision Song Contest as leadsinger of the band A Friend In London. With the song New Tomorrow they earned themselves a 5th position. Though the band split up last year, it will for sure be a Tim Schou in his best shape we will see at Euroclub. About this role he says to DR: "The energy, joy and loved I experienced in 2011 was some of the most amazing I have tried. I am very hounered to be in the lead to spread it on at this year's Euroclub".
It has also been announced that DQ will have her very own champagne lounge as a part of Euroclub. Here people will be able to hang out with her, sing with her, or take part in quizzes or whatever entertainment she comes up with. Behind DQ we find Peter Andersen, who is quite a versitile man, but most fans remember him for the song Drama Queen, which was Denmark's 1997 entry.
Euroclub will be open from the 28th of April to the 10th of May and is for delegations (the participants and people involved with the entry like broadcaster, manager etc.), press and accreditated fans. 
You might also like to read:
Prepare for Eurovision – Follow our language course:
In the video below you see A Friend In London (With Tim Schou) from the 2011 Eurovision Song Contest with their song New Tomorrow:
Links