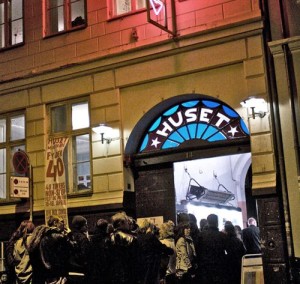 More than 150 hours of Eurovision entertainment in form of talk shows, quizzes, concerts and cinema films, that is what Euro Fan Café has to offer the many fans in Copenhagen for the Eurovision Song Contest. Entry bracelets can already now be purchased online at a reduced price.
Euro Fan Café will this year be hosted in Huset-KBH located at Rådhustræde 13, Copenhagen. It is a large place where many things can and will be happening at the same time. This is where fans can meet, show off their skills in Eurovision quizzes, catch a movie or enjoy a concert. It will be open the entire length of Eurovision 2014; from the 28th of April to the 10th of May.
The various places available at Huset-KBH have been given each their name, some of course with a clear Danish Eurovision hint: 
1. EMMELIE'S FOREST – The cobblestone courtyard where you can hang out day and night
2. BOUM BADABOUM ROOM – an intimate bar space just off the main courtyard
3. LA LA LA LOUNGE – Our biggest space (which also spills out into the courtyard)
4. DISCO TANGO – A place to take it easy and catch some live performances
5. DANSEVISE – DJs and concerts take place in this space
6. VIDEO VIDEO – A theatre space with films and some public performances
7. CINEMA – Huset's beautiful cinema which shows the world's trash classics
Just like last year project leader is Rick Jacobs. About the project this year he says: "I am really looking forward to seeing all of the fabulous people that I met in Malmö make Euro Fan Café into the default location for fans once again. Last year we were really taken aback by the dedication that Eurovision fans had for our inaugural project, so I hope we can build on the great feeling that Euro Fan Café left with many people once they departed from Malmö."  
A quick look at the programme, which can be seen below, reveals concerts from this year's participants from Malta, Lithuania and Switzerland, but also from former participants like Krista Siegfrids (Finland 2013) and of course last year's Danish Eurovision winner, Emmelie de Forest. Afterall, it is due to her Only Teadrops that the 2014 contest returned to Denmark. With the contest back in Denmark Eurovision fans will also be able to enjoy a concert with one of Denmark's most popular participants; Kirsten & Søren / Hot Eyes. They represented Denmark in 1984, 1985 and 1988 and many Danish fans will mention this duo as the reason they became Eurovision fans.
If you don't want to miss out on these concerts or many of the documentary films with Eurovision relavance shown in Huset-KBH's cinema, you can purchase a bracelet which will count as your entry for the entire two periods. If you buy in advance they are available with a discount.
You can buy your bracelet online with discount up until the 27th of April if you have a valid OGAE or INFE membership or have been granted either fan or press accreditation for the 2014 Eurovision Song Contest. They are priced at 200 DKK (26 euros). If you don't buy in advance you also purchase it from the 28th of April at the Euro Fan Café for a price of 250 DKK (33 euros).
Bracelets are also available for the general public without accreditation or membership. They can be purchased for 300 DKK (40 euros).
It is also possible to buy day tickets who just want to experience it all for one day. They are available for 100 DKK (13 euros). In other words, you don't need to plan to go many days before a two weeks bracelet will have paid itself.
The programme for Euro Fan Café:
OPENING NIGHT PARTY IN EMMELIE'S FOREST
28 April
Come celebrate the opening of the Euro Fan Café as we turn the courtyard at Huset into a Danish forest in honour of last year's winner, Emmeile de Forest. Drinks, music and entertainment until late. Special appearance from some of Huset's regular music groups.
EUROVISION-OKE
28 April, 2 May, 5 May, 8 May
Last year's very popular Eurovision karaoke returns to Euro Fan Café. And with an added bonus – if you want to compete as this year's best Eurovision-oke-ist, you are welcome to sing your heart out and perform in a final on 8 May against your fellow fans. Those not wishing to compete are of course welcome to sing their hearts out.
WALL-TO-WALL EUROVISION DJs
28 April to 10 May
Each night at Euro Fan Café you're guaranteed to hear your favourite hits played by the worlds top Eurovision DJs. A mix of Eurovision classics and some special themed nights will keep you dancing until the early morning.
FILM: SECRET HISTORY OF EUROVISION
29 April
The first in our new cinema series, this lovely Austrailan documentary digs deep into the historical significance of the Eurovision Song Contest, with theories on why the contest evolved as it did.
EURO FAN CAFE'S TALK SHOW SERIES
Between 29 April and 6 May
Rick Jacobs from 12points.tv continues as this year's talk show host – meeting artists from 2014 and previous years in an intimate setting. The revelations and gossip come thick and fast, and the live performances are often intense and revelatory when you're sitting so close to the artists. Our guests will be announced soon.
EUROVISION PUB QUIZ
29 April
The first of two quizzes at Euro Fan Café. This one is hosted by the Danish Quiz Association and will be filled with challenging questions and prizes for the winners.
FILM: ESC 2001
30 April
We will show the Danish contest – and see the madness at it's best. Sit in our lounge and have a drink – but what will you see, and what will you think? You are welcome to take a seat on the aisle – so you can watch Lithuania's "You Got Style"!
FILM: NAKED EUROVISION
1 May
A hilarious look at what went on behind the scenes at Eurovision 1998 in BIrmingham, hosted by Richard Fairbrass from the 90s band Right Said Fred. Witness the diva meltdowns, the grievances during the press conferences, and Germany's Guido Horn trying to destroy the set.
COMEDY IMPRO – EUROVISION STYLE
2 May
This Eurovison-themed performance is created right before your eyes – nothing is written or planned. A group of comedians ask for suggestions for comedy sketches from the audience, and then make it up as they go along. The results are guaranteed to be hilarious.
FILM: ESC 2013
3 May
Last year's contest from Malmö will be shown on our big screen. Come relive your favourite memories from 2013 – whether it be The Netherlands finally making it through to the final, love killing – over and over, or the outrageous girl-on-girl lipsmack.
MY NUMBER TWO
3 May
Everyone remembers the winner, but when do the second place entries ever get their moment in the sun? At Euro Fan Café, it's time to recognize all of the songs that almost made it to the top. My Number Two is a mix of videos, comedy and surprises. Which one will be the audience's favourite?
EMMELIE DE FOREST CONCERT
3 May
What would Euro Fan Café be without a visit from last year's fantastic Eurovision winner? Emmelie takes to the stage at Huset and hopefully finds an answer to how many times does she have to fight (with your help of course)
EUROVISION SCAVENGER HUNT
4 May
Assemble a team and grab a map, because it's time to explore Copenhagen for Eurovision treasure. Start your scavenger hunt at the Euro Fan Café, where we will prepare you with some clues to start to hunt. The first team back to the Euro Fan Café having solved all the clues will win a delicious prize.
EUROPHORIA – DIRECT FROM NEW YORK CITY
4 May
A late-night party held by New York's finest Eurovision club night, making their return to the Euro Fan Café for the second year. Brilliant music, lots of adorable giveaways, and a chance to interact with the other Eurovision fans gearing up for the first semi-final.
FILM: ABBA THE MOVIE SING-A-LONG
4 May
Come to the Euro Fan Café for an outdoor sing-a-long to your favourite ABBA songs. Following the group around during their Austrailan tour as they belt out the hits. And at this screening – so can you.
FILM: SOUNDS LIKE TEEN SPIRIT
5 May
A moving documentary shot around the Junior Eurovision Song Contest 2007, held in Rotterdam. Teenage contestants from Belgium, Bulgaria, Cyprus and Georgia talk about their hopes, their fears, and their dreams for the future – not just their own dreams but what they want to see happen in their home countries as well.
CONCERT: KRISTA SIEGFRIDS
5 May
Krista swept the stage last year with her song "Marry Me", Finland's Eurovision entry from 2013. With her Dong Dong Dancers in tow, she returns to the glory of the Euro Fan Café for a live performance. Expect more craziness from this memorable singer.
CONCERT: SWITZERLAND, MALTA AND LITHUANIA
5 May
Three of this year's acts come to the Euro Fan Café for an intimate performance. Watch as Sebalter from Switzerland whistle their way through "Hunter of Stars", Firelight from Malta won't "leave until you know their name", and Vilija Mataciunaité gets you to pay "Attention".
BATTLE OF THE MELODI-S!
5 May
It's Sweden versus Denmark in the battle of the millenium! Which country had the best Eurovision songs, the best costumes, the best surprises, and the best hair-ography? We dig deep into Eurovision entries and favourites from Denmark and Sweden's national final to figure out which country does it best – and it's up to your votes to decide.
SCREENING: THE BEST OF EUROVISION
6 May
All the favourites from 59 Eurovisions will be playing all night in our cinema. Grab some popcorn and enjoy your evening with your favourites, and some new discoveries.
CONCERT: BALKAN NIGHT
6 May
Ever wondered what your favourite Eurovision artists from Bosnia and Hercegovina, Serbia, Croatia or Bulgaria are up to these days? Well, your questions will be answered if you come down to Euro Fan Café for our Balkan night. These countries may not be represented in Copenhagen this year, but you'll find at least some of them at Euro Fan Café singing their hearts out.
FILM: THE APPLE
6 May
One of the trashiest films ever made with a Eurovision-style contest at the center of the plot – you won't want to miss this insane and misguided musical. Audience participation is part of the show as we will give you a handy guide at what to shout out at certain points of the film.
EUROVISION SONG CONTEST – LIVE
6 May, 8 May, 10 May
Don't have a ticket for the arena? No problem. We are streaming this year's Eurovision semi-finals live at Huset. Come have a drink and cheer on your favourites.
AFTERNOON TEA DANCE
6 May and 8 May
Start the party early before this year's Semi-Finals. Take the afternoon to relax in our courtyard and catch up with all the Eurovision fans you will have seen all week long.
OGAE INTERNATIONAL CONCERT
7 May
This is the big one! The entire Euro Fan Café is taken over by the unbelieveable OGAE International concert. Loads of artists from this year's competition, lots of surprises, and plenty of places to see them in.
FILM: THE EUROVISIONISTS
8 May
A joyful Israeli documentary about the lives of four Eurovision super fans. With the journey starting at Eurovision in Belgrade, this film reflects on the glittering world of Eurovision and the reality of modern Israel nowadays. The cast of the film will also be at the screening.
EUROFEST: DIRECT FROM LONDON
8 May
After the second semi final, head over to the Euro Fan Café as London's Eurofest club comes to Copenhagen for the first time. Legendary Eurovision DJs Dave Simmons, Don Grant and John Hagley will be playing the best tunes and special remixes into the early morning hours.
EUROVISION QUIZ: EXPERTS ONLY
8 May
You though the quiz at Euro Fan Café in Malmö got tough at the end? That was nothing compared to this year. Twenty-five of the most difficult questions that will challenge even the even most hardcore Eurovision fan. Do you dare to participate?
SØREN AND KIRSTEN
9 May
The duo behind Danish Eurovision entrants HOT EYES (1984, 1985 and 1988) make a special appearance at Euro Fan Café for an afternoon concert in an intimate setting. Kirsten appears with Rick Jacobs for a talk show and interview about her career, then Søren and Kirsten take to the stage to perform some familiar favourites and
FILM: TOMMY + chat with the director
9 May
Documentary about danish singer/songwriter Tommy Seebach. His life and career as told by the people who knew him best – his friends, colleagues and family. Director Sami Saif will be on hand for a Q+A after the film.
12POINTS.TV PARTY AND DJS ALL NIGHT
10 May
It's wall to wall music as Dutch Eurovision website 12points.tv holds another massive party on the night of the Final. DJ Louis spins the decks, with many more DJs in Huset's other spaces playing their favourite songs. A special way to end your time in Copenhagen.
Some surprises are still to be added to the programme, which will be announced at a later point.
As a media partner for the 2014 Euro Fan Café EuroVisionary will be covering some of the events taking place, just as we will cover the Eurovision Song Contest itself with rehearsals, interviews with the participants and the many other events taking place. As usual we bring you some videos in true 3D and others in regular 2D.   
You might also like to read: