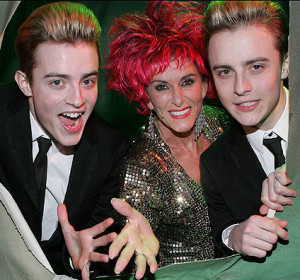 Irish Eurovision fans are in for a double whammy this festive season as two time Irish finalists John and Edward Grimes aka Jedward and 1992 Eurovision Winner Linda Martin have united on stage for a much anticipated production of pantomime Beauty and the Beast in Dublin's Olympia Theatre. (Oh no they're not… oh yes they are!)
As most of us know Johnny Logan composed Why Me? Linda Martin's winning song at the Malmö Eurovision Song Contest in 1992 which scooped the grand prix and kicked started the Irish three in a row 1992, 1993 and 1994. Twenty-one years later Linda is starring for the second time alongside 2011 & 2012 Irish Eurovision entrants Jedward in one of Ireland's biggest and best pantomimes.
Jedward are no strangers to the stage having toured the UK and Ireland extensively ever since they came to fame on the 2009 series of itv's The X Factor. Following on from their success at the 2011 Eurovision Song Contest in Düsseldorf when they finished 8th and their second attempt in Baku 2012, where they managed 19th place the brothers Grimes have shown another string to their energetic twin bow as pantomime stars. This year they return to the Olympia stage and it's reported on several Jedward fan sites that a song from the 2013 Eurovision gets a cover version, Krista Siegfrids' Marry Me.
Linda Martin hit the headlines following this years Malmö contest after a humorous reference was made by host Petra Mede which joked that Linda was actually Johnny Logan in drag when she won the 1992 contest. The story took flight and the Irish press in particular were outraged at the tongue in cheek suggestion. Linda herself made no comment for many weeks as the interest in the story grew and grew. In June Linda finally appeared on RTÉ's Saturday Night Show to set the record straight and in doing so made it known that she had been called worse in her time and that she had spun the interest that the comment attracted into gigs and bookings and thanked the reference for igniting a bit of interest in her career. That evening she performed on the same chat show a cover version of the Daft Punk and Pharell Williams track Get Lucky wearing a sparkly frock and showing how uphased she was by the whole overblown issue.
Beauty and the Beast with Linda and Jedward will run until January 5th at Dublin's Olympia Theatre
You might also like to read:
You can view a promotional clip for the show featuring Jedward below.
Also Linda Martin's performance of 'Get Lucky' is a must see moment