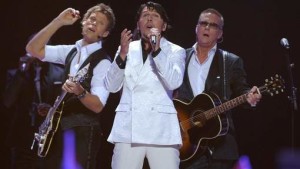 Fans of the Dutch trio 3JS must have woken to quite a shock this morning, with the news that the trio are to become a duo. The news breaks mere days away from the start of the popular group's Bronnen theatre tour of the Netherlands.
With the start of the Bronnen tour due to kick off on the 10th of January and with dates lined up all the way through to April, the news that guitarist Jaap de Witte is to leave 3JS must have been devastating, not least for the other band members. The 59 year old has been suffering from a neurological disorder for some time, he told Dutch tabloid De Telegraaf. The condition had begun to affect his ability to play, his fingers not being able to keep up and process signals being sent from his brain.
The news is reported to have come completely unexpected for his fellow band members, vocalist Jan Dulles and guitarist Jaap Kwakman. On de Witte's decision to leave the group, Dulles told De Telegraaf: "I always thought that Jaap would stop, but that was just because he was considerably older than us. That things would end this way came as a complete shock."
Fans who have secured themselves a ticket to the 3JS tour can rest assured – de Witte will still be accompanying the others on the tour, but not as a guitarist. He will be joining Kwakman and Dulles on stage, contributing with vocals. Fans will thus have the chance to say goodbye to de Witte before he finally leaves the group as an active member. His son Jan will replace his father as guitarist during the tour – he has already worked with 3JS over the past two years, and therefore knows their fans and material extremely well. So just for the Bronnen tour, perhaps the group will have to change their name to 4JS? Despite the neurological disorder, de Witte won't completely sever all ties with the group, as Kwakman told De Telegraaf: "He'll continue to write and compose songs – you can easily do that without the use of your fingers. We've been a trio for almost twenty years, and we would never want to do things differently."
You might also want to read: