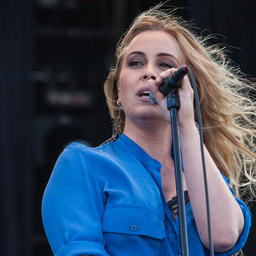 Dutch superstar and entrant for the Netherlands at the 2013 Eurovision Song Contest Anouk announced recently that an album release is in the works.
Anouk, the 37 year old singer, who first came to the attention of music lovers across the continent with her smash hit Nobody's Wife, was earlier this autumn confirmed by Dutch broadcaster TROS as their entrant for the 2013 contest in Malmö. The announcement followed a great deal of speculation in the media, with both singer and broadcaster issuing several statements denying the move.
The eventual announcement and subsequent confirmation of her participation however came to much the delight of many a Dutch fan. Because of Anouk's reputation as both an artist and performer, many believe and expect that the Netherlands now has one of the most credible chances ever at reaching the final in years.
And, as if to celebrate her particpation, the artist came with a very special announcement to all of her fans over the Christmas holidays. A brand new single entitled Stardust has been made available for download through her site, free of charge. The new single is the lead single off her next album, which has the confirmed title Sad Singalong Songs, scheduled for release on the 17th of May on her own record label, thus tying in nicely with her attempt to bring the Netherlands back to their first Eurovision final in almost ten years.

Sad Singalong Songs will be the first studio offering since the 2011 album release To Get Her Together on the EMI label. Anouk has already been quick to emphasize that the new release Stardust is not the song she will be singing on stage in Malmö. Until the title of her much anticipated entry is made known, a video of the big voiced songstress performing one of her biggest singles, Lost, can be seen below.
You might also want to read: