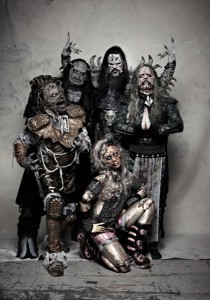 Since their win in 2006, Lordi have been plagued by problems. Their popularity waned, only to explode once more. Add to the equasion frequent changes to the line up and you have a recipe for the stereotypical rockband story. Lordi have however overcome their difficulties and are back, bigger and brasher than ever before.
Since forming in 1996, Lordi's popularity has grown and waned before rocketing once more after giving Finland their only win in 2006 with the rather unconventional Hard Rock Hallelujah. Fame and pressure have taken their toll on the band, with keyboardist Awa choosing to leave the line up and drummer Otus passing away earlier in the year. Both have since been replaced by new members, Hella on keyboards and Mana on drums.
With a new line up complete, Lordi is once more fit for fight and announced today on their website plans for both a new album and tour. The album is due out on March the 8th next year and has been given the title To Beast or not to Beast. The brand new album will be released on the Sony Music label domestically, with AFM Records releasing the album internationally. The band also confirm that they will embark on the Tour Beast or not Tour Beast tour to promote their new album thus heralding their return to the rock music scene. 
This news comes after a recent appearance on the German channel RTL at the end of last month and the announcement that a new documentary about Lordi is in the pipeline, with a premiere planned for spring 2014. Filming has already taken place, following the band both in their native Finland as well as around Europe and the US. Little is known about the true identity of the band members, as they always insist on performing and doing interviews in full Lordi costume, make up, masks and all. The planned film has followed the band closely, with the intention of shedding at least some light on the reality behind the scenes. Also included in the film is new archive material, giving a unique glimpse into the childhood of vocalist Mr. Lordi, otherwise known as Tomi Putaansuu.
Illume OY has been responsible for production of the film, and director Antti Haase has perhaps the ideal credentials for overseeing the filming and production of the project, knowing frontman Mr. Lordi personally and having grown up together in Rovianiemi.
Dates and venues for the Tour Beast or Not Tour Beast tour so far are:
03.04.2013 (Germany) Hamburg, Markthalle
04.04.2013 (Germany) Geiselwind, Autohof Strohofer
05.04.2013 (Germany) Memmingen, Kaminwerk
06.04.2013 (Germany) Offenbach-Bieber, TV Turnhalle Bieber
07.04.2013 (Germany) Mannheim, Alte Seilerei
11.04.2013 (Germany) Köln, Essigfabrik
12.04.2013 (Germany) Burglengenfeld, VAZ
13.04.2013 (Germany) Leipzig, Hellraiser
14.04.2013 (Germany) Berlin, K 17
16.04.2013 (Switzerland) Pratteln, Z 7
18.04.2013 (Italy) Bologna, ZR Club
19.04.2013 (Italy) Rome, Orion Club
20.04.2013 (Italy) Treviso, New Age Club
21.04.2013 (Italy) Milan, Alcatraz
25.04.2013 (Spain) Madrid, Penelope
26.04.2013 (Spain) Pamplona, Sala Tottem
27.04.2013 (Spain) Barcelona, Sala Tottem 
You might also want to read: