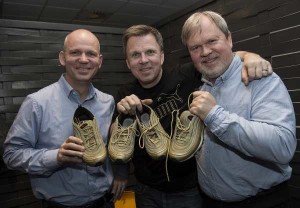 Amazingly, thirty years have already passed since three young brothers stood on the stage of the Grand Théâtre in Luxemburg, jubilant after giving Sweden a second victory at the contest. Herrey mania ensued and the trio are commonly regarded as the first Swedish boyband. To mark the thirtieth anniversary of their win, a special celebration is planned.
They came, they sang, they conquered. Often cited as one of the worst ever Eurovision winning entries, press weren't exactly charitable to brother Per, Richard and Louis Herrey, following their win at the 1984 Eurovision Song Contest with Diggi-loo, Diggi-ley, dubbing them the "dancing deodorants". That didn't deter the fans however, and the trio whipped up a frenzy of teenage hormones wherever they went in Sweden. Hit albums and singles such as Varje Liten Droppe Regn (Every Little Raindrop) and People From Ibiza followed. Mamy fans will have no doubt seen the tribute to them as part of last week's Melodifestivalen from Linköping.
Herrey's fans have long since outgrown their adolescent crushes, but the nostalgia still remains. And what better way to take a trip down memory lane than to celebrate the thirtieth anniversary of the brothers' win than by attending a very special concert given by the men of the hour! A special Herrey's revisited weekend is planned for the 2nd-4th of May at the stately Örenäs Castle in Landskrona, Southern Sweden. A limited number of tickets are available for the event, 220 in total. Guests will be able to relive the 80's with fun, games and music on the Friday evening following a sumptuous dinner.
Activities are planned for the whole of Saturday, with all guests encouraged to dig into their wardrobes and to find their Herrey's outfit for the occasion – white pants and a pair of golden shoes are mandatory! A one off concert will be the highlight of Saturday after dinner, where the brothers intend to get everyone involved. The whole weekend will be rounded off by a special concert given in a church nearby, where other members of the Herrey clan will join in and perform with Louis, RIchard and Per. If you feel like joining in on the fun, tickets for the weekend can be bought for 2950 SEK per person. For those unabel to attend the entire weekend, tickets are also available for just the concert on Saturday evening at a price of 495 SEK per person. Reservations can be made either by e-mail: [email protected] or by calling +46 (0)418-451100.
You might also like to read: