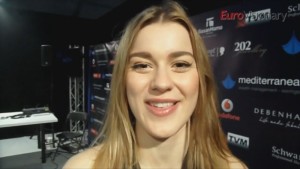 Firelight winning the Maltese national selection and a special #JoinUs greeting from last year's Eurovision Song Contest winner, Danish Emmelie de Forest. Those are some of the things you can see in these two videos which includes interviews as well as Firelights winning celebration.
Firelight won the 2014 Malta Eurovision Song Contest and thereby the right to represent Malta in Copenhagen in May. In order to prepare as much as possible they were able to get some advise from last year's Danish Eurovision winner, Emmelie de Forest, who was on Malta to premiere who new song Rainmaker, which will the official theme song for this year's Eurovision Song Contest. 
In the first of the two videos below you can see how it went on as Firelight won the Maltese national selection plus an interview with them mixed in between the celebration. In the second video you can see an interview with Emmelie de Forest where she sends a special #JoinUs greeting to everyone going to Copenhagen.