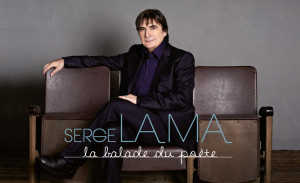 Serge Lama has decided to celebrate his 50-year career by offering his fans a greatest hits album entitled La Balade Du Poète. It is a walk through his best songs that includes three unreleased tracks that he wrote in his teens. He will present this album as part of a tour throughout France.
This ever-popular artist, renowned for his deep voice, took part at the 1971 Eurovision Song Contest representing France with Un Jardin Sur La Terre.
Serge Lama discovered his vocation at an early age. Indeed, he spent most of his childhood in the music hall watching his father's performances as a professional baritone and it was not long before he vowed to follow in his footsteps. As a teenager he also penned a handful of fairly decent songs that had not been released until now when he has decided to include three of these gems on this album.
He is the author of thousands of unforgettable songs and some of them are part of this extraordinary double album such as Je Suis Malade composed by Alice Dona (who is also the author of his Eurovision entry), D'aventures En Aventures, La Vie Lilas, Une Île… and other less well-known songs.
The album contains thirty-nine tracks in total, including twenty re-recorded songs with new musical arrangements or even new lyrics such as Rien Ne Vaut Vous which he has completely rewritten the verses of or La Fille Dans L'église where he added a new verse.
After he was forced to cancel his tour in late 2011 due to his hip problems, Serge Lama is back in top form and, from January 2013, he will be stopping off at the major cities around the country with more than forty confirmed dates already including the nine concerts to take place at the prestigious Olympia auditorium in Paris in mid-February.
For the occasion, the singer chose to create a new official website which opened a few days ago.
The track list of La Balade Du Poète is as follows:
CD1
01 La Balade Du Poète
02 A Quelle Heure
03 D'Aventures En Aventures
04 Je Suis Malade, Les Petites Femmes De Pigalle
05 Mémorandum Pour Un Pucelage
06 Dominika
07 L'enfant D'un Autre
08 Moyennant Quoi
09 La Fille Dans L'Eglise
10 Et Puis On S'aperçoit
11 Mon Dada C'est La Danseuse
12 Comment Veux-Tu Que Je La Quitte
13 La Vie Lilas
14 Je T'aime
15 Seul Tout Seul
16 Je T'aime A La Folie
17 Des Eclairs Et Des Révolvers
CD2
01 Les Ballons Rouges
02 Rien Ne Vaut Vous
03 Une Ile
04 Je voudrais tant que tu sois là
05 Les Glycines
06 L'Enfant Au Piano
07 Mon Ami, Mon Maître
08 L'Amitié C'Est Quand On a Pas D'Fille
09 Je Te Partage
10 Femme, Femme, Femme
11 L'Algérie
12 Le 15 Juillet A 5 Heures
13 D'où qu'on parte
14 Alors que l'on s'est tant aimé
15 Un Jour, Une Vie
16 J'espère
17 La Fiancée
18 Le Temps De La Rengaine
19 Les Jardins Ouvriers
20 Le Temps De La Rengaine
21 La Braconne
22 Chez Moi
Do not hesitate to purchase this album in the link below.
You might also want to read: