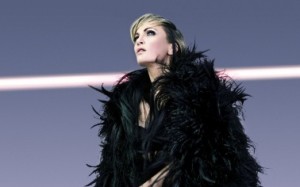 Patricia Kaas has paid a tribute to the great Edith Piaf who died fifty years ago. As part of this, she has recorded an album with fifteen mythical songs interpreted with the Royal Philharmonic Orchestra and she will perform an international tour which has more than one hundred confirmed dates so far.
After a fabulous career of more than twenty years, Patricia Kaas, who represented France at the 2009 Eurovision Song Contest with Et S'il Fallait Le Faire, is still the heiress of Piaf for audiences across the world having sold upwards of sixteen million albums in more than forty-seven countries.
Patricia Kaas commemorates fifty years since the death of Edith Piaf with Kaas Chante Piaf meaning Kaas Sings Piaf, an album and a world tour where we will enjoy fifteen of Piaf's greatest hits.
Although designed primarily as a live show it will also be released as an album that will be on sale from November 5 featuring the greatest hits made famous by Edith Piaf as a tribute to one of France's greatest international stars of all time.
Among the tracks of the album we find one of the most emblematic songs of Piaf, Hymne À L'amour sung for the first time in 1949. The lyrics was written by Edith Piaf herself and it was dedicated to the love of her life, the French boxer Marcel Cerdan who died in a plane crash when he was going to visit her. This song brought Piaf a big success and it has been sung many times in many languages by artists in the world including several Eurovision Song Contest participants such as Kirsten Siggaard (Denmark 1984, 1985 and 1988), Nana Mouskouri (Luxembourg 1963), Paloma San Basilio (Spain 1985), Lara Fabian (Luxembourg 1988), Patrick Fiori (France 1993) or Engelbert Humperdinck (United Kingdom 2012) among others.
Piaf will be also the centerpiece of a unique show performed by Patricia Kaas with an innovative stage design that will include an original video installation, where unedited, extraordinary and never seen images of her will be shown. This show will be premiered on the same date of the album release at one of the world's most prestigious venues; the Royal Albert Hall in London. After that, will come other emblematic places such as Carnegie Hall in New York, Olympia in Paris, Operett Theatre in Moscow, Sejeon Cultural Center in Seoul… a total of sixteen different countries according to the dates confirmed so far.
This project is arranged, orchestrated, conducted and produced by one of the rising talents in film music today, the Golden Globe nominee Abel Korzeniowski who has impressed the Hollywood community with his passionate, evocative and truly original music.
The track list of the album and also the show's is as follow:
1 – Mon Dieu (Michel Vaucaire / Charles Dumont)
2 – Padam, Padam (Henri Contet / Norbert Glanzberg)
3 – Avec Ce Soleil (Jacques Larue / Philippe Gerard)
4 – Milord (Joseph Mustacchi / Marguerite Monnot)
5 – La Belle Histoire D'amour (Edith Piaf / Charles Dumont)
6 – Les Amants Merveilleux (Florence Véran / Robert Gall)
7 – T'es Beau Tu Sais (Henri Contet / Georges Moustaki)
8 – Hymne A L'amour (Edith Piaf / Marguerite Monnot)
9 – C'est Un Gars (Pierre Roche / Charles Aznavour)
10 – Song For The Little Sparrow (Abel Korzeniowski)
11 – La Foule (Michel Rivgauche / Angel Cabral)
12 – Mon Manege A Moi (Jean Constantin / Norbert Glanzberg)
13 – La Vie En Rose (Edith Piaf / Louiguy)
14 – Non, Je Ne Regrette Rien (Michel Vaucaire / Charles Dumont)
15 – Je T'ai Dans La Peau (Jacques Pills / Gilbert Bécaud)
Below you can watch the official teaser of the show: