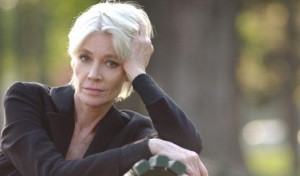 At the age of 68, the muse of the French song releases her new album L'amour Fou and a book with the same title. This is fantastic news as from Françoise Hardy we can't expect anything, but a great work. She is a music icon of the past half century and an example of musical and personal dignity.
Singer, songwriter, actress and model, Françoise Hardy has created a musical style and aesthetic that remains today since she published her first album in 1962 and she represented Monaco at the 1963 Eurovision Song Contest with L'amour S'en Va. With her shy temperament, her soft voice and her natural beauty, throughout her career, with almost thirty albums released, she became a star and her songs reached to the top of the charts at home and abroad.
Since the very height of her fame in the 60's, Françoise Hardy had always vowed that she would stop singing before the age of 50. In fact, the singer began preparing her farewell album, Décalage, at the age of 44. Despite the high quality of the album, Hardy fans appeared disappointed by this final work, obviously expecting a grander finale than that. In fact, her fans managed to fulfill their desire and she has made several comebacks releasing five more albums after that.
This album, the 27th of her career, will be on sale from November 5. It is a magnificent return to music with songs about subjects that Françoise Hardy has sung along her 50-year career such as the impossible love, the passion that leads to self-destruction, the mad love… It includes collaborations with popular French artists such as Julien Doré or Calogero among others.
The track list of L'Amour Fou is as follow:
1. L'amour Fou
2. Les Fous De Bassan
3. Mal Au Cœur
4. Si Vous N'avez Rien À Me Dire
5. Normandia
6. Piano-Bar
7. Pourquoi Vous?
8. Soie Et Fourrures
9. L'enfer Et Le Paradis
10. Rendez-Vous Dans Une Autre Vie
She is back to the music stores but also to the bookstores. With her new album comes her first novel which bears the same title, L'amour Fou. She has decided to unleash her imagination in this novel that tells the tumultuous romance of a passionate and destructive couple. This is her second literary experience after publishing in 2008 her autobiography Le Désespoir Des Singes, with more than 500,000 copies sold.
You can watch Françoise Hardy singing Pourquoi vous?, the first single of L'amour Fou below where you will also find the link to purchase the album: