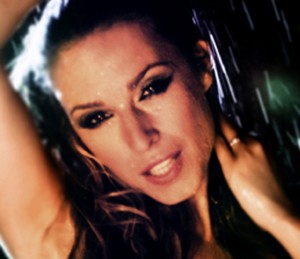 The Spanish singer, Gisela, who represented Andorra at the 2008 Eurovision Song Contest with Casanova, returns to the music scene with a preview of her upcoming album, a powerful dance song in English entitled Sugarwood.
Two years after the publication of her latest musical work, the Spanish singer Gisela has announced her musical comeback with a new single called Sugarwood and whose official video clip has been premiered today. This is the lead single taken from her highly-anticipated sixth studio album, still untitled, which is scheduled for release later this year.
In this new phase of her career Gisela leaves the sweetness that led her to record several songs for Disney soundtracks and comes back with something radically different from the soft-pop and the melodic style of her previous releases and we must say that this new image and new style suits her very well.
Sugarwood has been produced by Denis Bilanin and composed by Billy Mann, Christian Lindberg and Lvar Kisinski but it is not an unreleased song. It has also been performed by Taiwanese singer Jolin Tsai under the name of Shadow Dancer and by the South African Sasha-Lee who released it four years ago.
The song is on sale on digital stores and below you can watch the official video where she is accompanied by several celebrities such as Manel Fuentes, Christian Gálvez, Elsa Anka or the popular actor Santi Rodríguez.
You might also want to read: