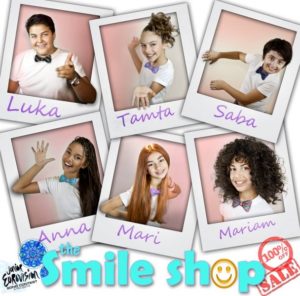 The sextet that was elected last summer to represent Georgia at the upcoming Junior Eurovision Song Contest has finally got a name. They will be called The Smile Shop and they will be singing Give Me Your Smile in Kyiv.
As reported in early August, six children were chosen to represent Georgia at the 2013 Junior Eurovision Song Contest but we still needed to know what their name as a group was and, of course, listen to the song that they are going to perform on the 30th of November.
The name chosen for the band is The Smile Shop and, as previously announced, it consists of Luka, Tamta, Saba, Anna, Mari and Miriam. Today we have listened to them singing together for the very first time their Junior Eurovision entry entitled Give Me Your Smile which has been composed by Giga Kukhianidze and written by Nana Tsintsadze the same team who has been behind Georgia's most successful entries in Junior Eurovision.
About the song, we can say that the vocals are great from all six kids and they complement each other well. The classical-style harmonies are superbly interlaced with modern beats which creates a nice balance and the song is quite original and catchy. It really has many of the ingredients that should appeal to the youthful voting audience.
You can listen to Give Me Your Smile in the video below.
You might also want to read: