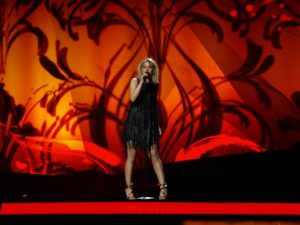 After six years of internal picks, the French broadcaster will once again have a public selection to choose their representative for the upcoming Eurovision Song Contest. The national final will be held on the 26th of January, but we won't know who the winner is before the 2nd of March.
For 2014, the French broadcaster has decided to bring back the national final so the audience will have the opportunity to choose the artist that will represent France in Copenhagen. Today, more details and dates have been revealed.
As we reported earlier, in late November an expert committee consisting of fourteen people including music industry professionals, a viewer and a Eurovision fan will evaluate all the candidate songs and will select three of them to proceed to the national final.
The three selected songs will be premiered on the 26th of January at the show Les Chansons D'Abord hosted by former Frech Eurovision representative Natasha St-Pier but the results won't be revealed that evening. The French viewers will have four weeks (until the 23rd of February) to vote for their favourite act to represent France at the 2014 Eurovision Song Contest.
While the voting lines are open, short clips of the three candidate acts will be broadcast on a regular basis on France 3 in order to let the viewers know a little more about each act and help them to make the right choice.
The winner will be revealed on Natasha's show on the 2nd of March. It will be decided by the combined result of 50% televoting and 50% jury voting.
You might also like to read: