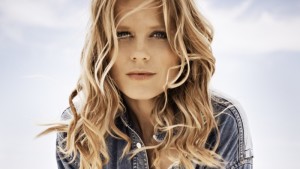 As the time ticks down to the announcement of the Dutch representative for Copenhagen, the local media is busy with romours. Lately, Dutch favourite Ilse De Lange left the doors open for the next Eurovision Song Contest after being questioned about it in a talkshow.
A few days ago the Dutch broadcaster, TROS, announced that they
would like to follow Anouk's success by going for an internal selection once again. The announcement of the artist will take place in Wisseloord Studios on the 25th of November. As the time is ticking down to the announcement, curiosity is on its high levels. Lately early signs shows Ilse De Lange as the next Dutch representative.
Yesterday, in RTL's Late Night Show, a question about participating in the Eurovision Song Contest was asked one of the guests, Ilse De Lange, if she was the one for Copenhagen. She smiled mysteriously and said that she couldn't answer that question yet. Then, Ilse was asked if she would want to represent The Netherlands at the Eurovision Song Contest and she gently answered: "A couple of years ago I would have said no, but Anouk has shown the way and now it could be interesting to do."
36 years old famous Ilse De Lange has a great musical background with full of success: She has three TMF Awards, five Edison Awards and five 3FM Awards, in 2013 given as best female act. She started her career at the age of 8 as a lip-synching artist, which
won her several contests. De Lange drew greater attention after
switching to a live repertoire in both regional and national talent
shows in Hilversum, the Dutch city where most TV-programs are recorded. Ilse has already released seven albums – six of them reached to the platinium level – and numerous singles as well as live records. She is currently working under the brand of international Universal company.
Last year, the Netherlands broke the duck with qualifying to the final after dissapointing nine years. Click on the video below to see last year's Dutch representatives, Anouk's performance recorded using
Eurovisionary's ground-breaking 3D technology. It can easily be turned
off in the player, giving you a standard 2D image. If you do not yet
have a pair of suitable glasses we recommend getting hold of EuroVisionary's 3D glasses. 
You may also want to read: