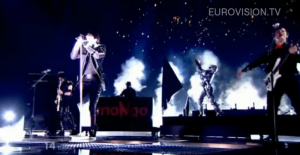 Today, the broadcaster TRT, who has decided not to come back to the Eurovision Song Contest, released a statement regarding the next contest. Though EBU's head Jean-Paul Philippot has apologised about what TRT believes to be previous unfair decisions, TRT is not stepping back from their opinion about 2014 participation.
The Turkish broadcaster decided to withdraw from last year's Eurovision Song Contest in Malmö, citing the unfair 50/50 voting system and Big 5 issue. After the EBU made rule changes, everyone started to think there might be a chance of coming back from Turkey in Cophenagen, but early signs showed the Turkish participation was most likely not happenning next year too.
Today the broadcaster via its website have announced that the head of TRT, İbrahim Şahin held a meeting with the head of EBU, Jean-Paul Philippot in İstanbul. After the meeting İbrahim Şahin released a statement about the latest situation regarding to the contest: "Although we were having good results at the contest, we previously signaled that we're not coming back in 2014 like in 2013; as previous system changes weren't asked for our votes. Apart from these issues we are not taken into the elections for the board of management though we are one of the strongest members in EBU. Today Mr. Philippot told us their apologises about both situations."
İbrahim Şahin clarified the future releations between EBU and TRT, "From now on both TRT and EBU will take more initiative about the releations as EBU showed us their enthusiasm today. There are more than 300 international employees in EBU and only one of them is Turk. We are one of the bigger countries in the union so EBU will have less issues like these (participation in the contest, elections and etc) if there are more Turkish employee to contact about us in the future".

The statement lasted announced that if the circumstances changes, Turkey will be back in 2015 Eurovision Song Contest.
Turkey joined the contest in 1974 for the very first time and reached glory in 2003 with Sertab Erener. Click on the video below to see Turkey's last representative Can Bonomo's performance recorded using
Eurovisionary's ground-breaking 3D technology. It can easily be turned
off in the player, giving you a standard 2D image. If you do not yet
have a pair of suitable glasses we recommend getting hold of EuroVisionary's 3D glasses. 
You might also want to read: