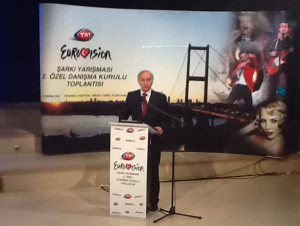 One of the big guns in the Eurovision Song Contest, Turkey, upset many fans by withdrawing from last year's contest. TRT's head manager announced their come back is not likely to happen next year, although it is still a considerable dilemma.
Turkey became one of the most successful countries immediately after the televoting system was brought into the Eurovision Song Contest in past 10 years. They were not having good results at that time, this was highly considered as political games by local media. After jury results were added to the combined results in 2009, the gap between Turkish jury and televoting results increased and this situation concerned Turkish broadcaster, TRT, claiming some games being played behind closed doors which ended up by withdrawing the contest last year.
There was a high hope in Turkish media that the country might return to the contest this year but head manager of the Turkish broadcaster, İbrahim Şahin, gave negative signals by saying that Turkish participation will most likely not happen next year too. He also added, "This might be new for you but we are most probably not going to participate next year too. The board of directors gave me the full autorithy to decide participation at the contest, the deadline for 2014 yet to be reached but up to now, all European Broadcasting Union did was apologise and say that they would postpone the deadline. We are not thinking to participate unless they suprisingly make some change of rules in the contest."
Turkey firstly joint the Eurovision Song Contest in 1975 and last time they participated in 2012 with Can Bonomo's Love Me Back which was overally placed 7th after having respectable 4th placing in televoing results, but becoming 22nd by jury decision.
You might also want to read:
Click on the video below to see Can Bonomo's performance recorded using
Eurovisionary's ground-breaking 3D technology. It can easily be turned
off in the player, giving you a standard 2D image. If you do not yet
have a pair of suitable glasses we recommend getting hold of EuroVisionary's 3D glasses.