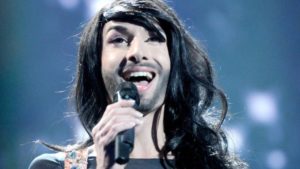 Reports in the media exploded today, following an apparent confirmation that Austrian boradcaster ORF have announced that they are to send none other than Conchita Wurst to the 2014 Eurovision Song Contest in Copenhagen.
It was impossible not to notice artists Conchita Wurst, the artistic alter ego of Tom Neuwirth, when she first took part in the talent show Starmania back in 2006. Conchita came runner up behind Nadine Beiler, who many will remember went on to represent Austria at the 2011 contest in Düsseldorf. Not to be put off by a minor setback,she tried her luck again in a show called Die große Chance. Her career then seriously began to snowball when she took part in the Austrian preselction the following year, again coming second behind the duo Trackshittaz with That's What I Am. Since then, she has gone on to build up a major cult following.
After failing to reach the Eurovision final for the second consecutive year with young starlet Natália Kelly, ORF have decided to ditch the Österreich rockt den Song Contest format used last year and instead has used an internal selection to decide their entrant for Copenhagen next year. In a decision which has both intrigued and delighted many as well as horrifying many others, ORF confirmed today that the distinctive looking diva Conchita Wurst will defend the Austrian honour on stage after having taken part in the TV show Wild Girls, a trek through Africa on high heels.
The song which Conchita will perform is yet to be determined although it is known that the artist hasd been busy working on her debut album for roughly a year now. Stay tuned for more details surrounding her entry as and when they appear.
You might also like to read :