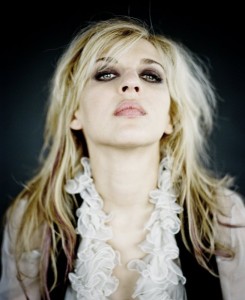 Earlier today, the news was announced as an exclusive in the French newspaper Le Parisien but now it has been confirmed by the public broadcaster that Amandine Bourgeois will be the French representative in Malmö with the song L'Enfer Et Moi which means Hell And Me.
A total of eighteen songs were submitted as candidates to represent France at this year's Eurovision Song Contest (among whom was, as we reported a few weeks ago, the 1973 Eurovision winner Anne Marie David) but the expert committee had to choose just one of them. The selection process was done in two stages consisting of a blind audition that narrowed the candidates to five finalist acts among which, one of them, L'Enfer Et Moi sung by Amandine Bourgeois, was highlighted among the others.
Amandine was born 33 years ago in Angoulême, in southwestern France. Her life has been related to music since she was a child. She studied music theory at the Nice Conservatory and at the age of sixteen she formed a rock band. She has been backing singer of great artists and also she has worked as an actress in musical theatre. She became popular in 2008 when she won the sixth edition of the talent show called Nouvelle Star. Since then, she signed a record deal with Sony Music to produce her first album entitled 20 m2 which became a bestseller in France. Her second album, Sans Amour, Mon Amour was released in March, 2012 and it was partly recorded in the Yellow Fish and Abbey Road studios in the United Kingdom. Her music mixes a lot of influences, from English pop to soul or rock and, according to the singer herself, she made sure that the songs from this new album were as simple as possible thereby achieving some beautiful melodies with meaningful lyrics. About her participation at the 2013 Eurovision Song Contest, she said that it can be the perfect opportunity to promote her new work.
About the song, so far, we only know its title and the names of its authors who are Boris Bergman and David Salkin. We will have to wait a few days to know how it sounds.
You might also want to read:

In the video below you can listen to Amandine singing one of her most successful songs, Sans Amour.