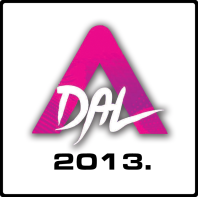 Yesterday the Hungarian jury and televoters selected the first four finalists of A Dal. Tonight the remaining nine acts were competing for yet another four spots in the final, which will be held on the 2nd of March.
In our article from yesterday you can read about the first four acts that qualified for the final of A Dal. 
The songs: (You can read more about the participants in our Hungarian Get To Know article)
1. Szilvia Agárdi & Dénes Pál – Szíveddel Láss ( L & M: Szabó Zé and Tamás Molnár)
2. Gergő Baricz – Húz ( L & M: by Gergő Baricz)
3. Tamás Palcsó – Ezt Látnod Kell ( L & M: Tamás Palcsó & István Tabár)
4. Tamás Vastag – Holnaptól ( L & M: Szabó Zé and Szente Vajk)
5. Bye Alex – Kedvesem ( L & M: Marta Alex – remixed by "Zoohacker")
6. Veca Janicsák – Új Generáció ( L & M: Veronica Janicsák)
7. Gigi Radics – Úgy Fáj ( L & M: Huba Kelemen, Jack D. Elliot and Jánosi)
8. Fatima Mohamed – Nem Baj ( L & M: Fatima Mohamed, Tibor Féher and Laci Nagy)
9. United – Tegnap Még Más Voltá ( L & M: Pély Barna, Romhányi Áron and Mits Gergely)
The voting:
As usual in this competion the jury and the televoters decide half each. First the jury select their two favourites and then the next two, not already chosen by the jury, will come from the televoters.

Selected by the jury:
Gigi Radics – Úgy fáj
Tamás Vastag – Holnaptól

Selected by televoting:
ByeAlex – Kedvesem
Szilvi Agárdi & Dénes Pál – Szíveddel láss
Hungary at the Eurovision Song Contest:
Hungary has participated at the Eurovision Song Contest ten times with Friderika Bayer as their first entrant in 1994. It left the competition after the 1998 contest, coming back in 2005 and reaching the 12th place with NOX. In 2006 the country announced it would not participate although it returned in 2007 with Magdi Rúzsa. In 2010 it withdrew due to financial reasons being back in 2011 with Kati Wolf. Last year, the band Compact Disco made it to the final where they were ranked in penultimate position with just nineteen points.