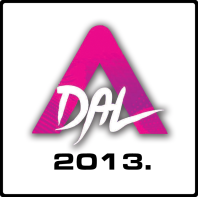 Tonight Hungary kicked off for its first of two semi-finals. Nine acts went on stage fighting for four places in the final. The lucky ones are still in with a chance to represent the country at this year's Eurovision Song Contest. Tomorrow the second semi-final takes place.
The songs: (You can read more about the participants in our Get To Know article.
1. Laura Cserepes – Élj pont úgy ( L & M: Krajczár Péter, Kolozsvári Tamás and Tabár István)
First song from tonight comes from Laura who delivers a beautiful ballad, which kicks in with a more up tempo chorus that starts after about a minute. The vocal is strong and could be one of the contenders to fight for the Hungarian Eurovision ticket in the final.
2. Tibor Gyurcsík – Öröc Harc ( L & M: Vödrös Márton, Molnár Tamás and Geszti Péter)
Tibor also participated in the Hungarian selection last year, but his song this year is a more quite pop song with some rock elements on the chorus. With about 40 seconds left he is joined on stage by a female rap singer, who sings for about 10 seconds before focus is back to him again. 
3. András Kállay-Saunders – My Baby ( L & M: András Kállay-Saunders)
We continue with a bit old styled relaxed motown jazz night club kind of thing. This song really stands out with its nice harmonies and his voice fits this song just perfectly. It is very pleasant to listen to – and easy to see that this qualified as the choice from the jury. 
4. Ildikó Keresztes – Nem Akarok Többé Játszani ( L & M: Leander Köteles)
We continue with a rock ballad, though it started out with a nice soft piano play. Her crispy voice completely overtone the piano thoughout the song, but near the end you are once more reminded that it is there. In moments the song makes you think of Molitva, though this is more rocky. 
5. Odett – Engedj El ( L & M: Kovács Gergővel, Takács Zoltánnal and Fátyol Kamillával)
From Odett we gets a ballad, with up tempo beats on the chorus. It has some ethnics influences here and there and she actually sings it very well. Question is just, will it appear disburbing or interesting that you hear the backing singers basically groan? 
6. Gáspár Lacy & Plastikhead – A Szeretet Él ( L & M: Tóth Zoltánnal, Gáspár Laci and Orbán Tamás)
This song starts out with a keyboard setting the tone and then the leadsinger kicks in with a voice making you think you will be getting a rock ballad. Instead of that, the DJ takes over and the song turns into a dance song. Strangly enough this song qualified as a choice from the jury, but will it do that again? 
7. Lilla Polyak – Valami Más ( L & M: Bella Máté, Szente Vajk and Galambos Attila)
From Lilla we get a more straight forward uptempo dance song. The song really requires one to be able to hit the high notes on the chorus and though she holds the vocal nicely through most of the song there are moments where it sounds like she is strengthen her voice too much.
8. Peti Puskás – Amíg A Tűz Ég ( L & M: Csöndör László Diaz, Düki and Puskás Péter)
Peti qualified from the help of the televoters with this rock ballad. The chorus builds up nicely with plenty of guitar on, but it is like it really never comes to where you could imagine it to go. His voice however is quite suitable for this type of song.   
9. Gergő Rácz – Csak Állj Mellém ( L & M: Péter Geszti & Gergő Rácz)
We end with a standard pop song with some elektro beats on it. It starts out quite promising, but once again, it is like it really never gets out of the place. It is sung really well and it is well produced, but one can doubt that it is remarkable enough to be remembered.   
The voting:
Just like in the previous heats the jury and the televoters decide 50% each. Tonight with two songs each. Regarding the televoting then it was also possible to vote from abroad.

The jury choice:
András Kállay-Saunders 45 points
Gergő Rácz 43 points

The televoting choice: 
Ildikó Kereszte 39 points
Laura Cserpes 33 points
Hungary at the Eurovision Song Contest: 
Hungary has participated at the Eurovision Song Contest ten times with Friderika Bayer as their first entrant in 1994. It left the competition after the 1998 contest, coming back in 2005 and reaching the 12th place with NOX. In 2006 the country announced it would not participate although it returned in 2007 with Magdi Rúzsa. In 2010 it withdrew due to financial reasons being back in 2011 with Kati Wolf. Last year, the band Compact Disco made it to the final where they were ranked in penultimate position with just nineteen points.