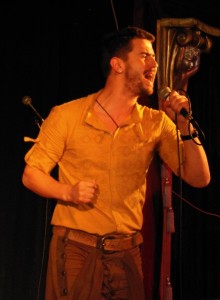 Last Saturday the German fanclub OGAE Germany organized its annual convention in Munich. About 200 guests enjoyed a varied programme with the performance of four former Eurovision participants Sandra Reemer Friderika Bayer, Tom Dice and Pasha Parfeny being the highlight.
OGAE Germany, one of the two German Eurovision fanclubs, held its annual convention last Saturday. About 200 fans decided to visit Bavaria's capital Munich to be a part of this event. The organizers prepared a varied programme which started at 15:00 with a cover song contest (fans singing for fans), a review of the 2012 Eurovision Song Contest in Baku and a preview of the songs that are already selected for Malmö.
In the late afternoon the first guest took the stage – Ralph Siegel, also known as Mr Grand Prix. During a very long and detailed interview a video of his Eurovision entries (and those who did not make it to the Eurovision Song Contest) was shown.
The evening programme started with the performance of Friderika Bayer who represented Hungary at their very first Eurovision participation in 1994. Her song Kinek mondjam el vetkeimet finished 4th in Dublin which is still Hungary's best ranking. Beside her Eurovision entry Friderika sang three other songs, one of them even in German.
Next on stage was Tom Dice who represented Belgium in 2010. He performed his Eurovision entry Me and my guitar and some of his other songs. At the end he sang Oasis' Wonderwall with a sing-a-long-part together with the fans.
After a short break it was time for Pasha Parfeny. He started with his Eurovision entry Lautar. He even wore the same clothes like he did in Baku. Again he delivered a very powerful performance of this song so that he sat down at the piano afterwards to play some slower songs, like Michael Jackson's You are not alone. At last he performed another uptempo song – Dorule, his entry of the 2011 Moldovan final where he finished 3rd.
Last artist on stage was Sandra Reemer who represented The Netherlands at the Eurovision Song Contest three times (1972, 1976 and 1979). After four non-Eurovision related songs she also sang her Eurovision entries Als het om de liefde gaat (in a duet with a German fan), The party is over and Colorado.
The evening was concluded on the dancefloor. Like several times before DJ Ohrmeister played a perfect mixture of Eurovision and national final songs that made a lot of fans staying at the location to dance the night away.

You might also want to read: