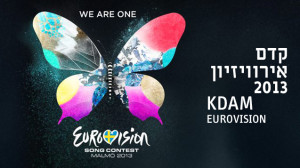 Israel is celebrating this year the 40th anniversary of their first participation at the Eurovision Song Contest and more than a hundred songs were submitted for their pre-selection. Among the thirty hopefuls we find the names of well-known artists and songwriters alongside many newcomers.
The Israeli Broadcasting Authority, IBA, has published the list of thirty participants in the 2013 edition of the Kdam which will have a new format. It will consist of three semi-finals, a second-chance round and a big final.
The thirty participants will be divided into three groups so we will have three semi-finals to be held on 24, 25 and 26 February with ten acts on each. The top three from each semi-final will qualify directly for the final, while those who achieve the fourth and fifth position will get a second chance on the 3rd of March. In this second-chance show, six acts will fight for the remaining one ticket to the big final of Kdam 2013 to be held on 7 March where the winner will be chosen through jury voting (30%) and televoting (70%).
Of all the songs submitted, the thirty candidates to enter the pre-qualification rounds in late February have been chosen by a panel of experts including artists, musicians and music producers. Check out their names and the titles of their songs:
Hila Ben David – Beautiful (written by Garry Gaz and Arc Garry Gazarc)
Julietta – Fantasia (written by Doron Medali)
Lihi Griner & DJ Omri Segal – Just Like Me (written by Kraziner Lev, Omri Segal and Idan Roe)
Vladi Blayberg – New Day (Written by Noy Alooshe, Doron Plaskov and Sa'ar Badishi)
Eric Forman – Livin' One Time (Written by Itzik Kreif and Eric Forman)
Kathleen Reiter – Ad Elay (Written by Dor Daniel, Sahar Hagai and Patsricia Ori Cohen)
Hen Cohen – Halev Mevakesh (Written by Hen Cohen and Christina Yizhar)
Moran Mazuz – Give Me A Sign (Written by Shuli Yosef)
Bezalel Raviv – No War (Written by Eliayhu Siboni, Yotam Bekker and Bezalel Raviv)
Ortal Ofek – Tagid Li Lama (Written by Ortal Ofek)
Aderet – Victory (Written by Aderet)
Alon Jan – Live My Life (Written by Alon Jan, Baruch Fridland and Einat Hollander)
Ran Sandler – Find A Way (Written by Doron Gal)
Love Is One (Which consists ff Ron Weinreich, Yoad Fekete, Ido Sagir, Yigal Cohen, Yuval Yaron & Elad Kimchi) – Love Is One (Written by Yoad Fekete and Ron Weinreich)
Liran Notik – Give Me A Sign (Written by Liran Notik)
Josh – My Baby (Written by Sapir Amar and Jehoshua Peretz)
Shani Zamir – Forever (Written by Shani Zamir)
Hadar Ozeri – Ten Ma'awal (Written by Ronen Shaul Blonder and Hadar Ozeri)
The Ultras – Happy Birthday (Written by Eli Peretz, Dan Bartov and Cedric Ben Shabat)
Yehuda Gavra – We're Beautiful (Written by Tomer Hadadi and Yehuda Gavra)
Michael Harpaz – Michtav Le'ima (Written by Michael Harpaz)
Sarit Avitan – Mon Amour (Written by Sharona Pick and Mirit Shem Orr)
Haia Samir – Am I Happy Or Am I Sad (Written by Haia Samir)
Adi Cezare – Pagia Ve'shavir (Written by Adi Cezare)
Meital De Razon – Toda La Noche (Written by Asi Tal And Meital De Razon)
Laila Malcos – Bo (Written by Yoni Roe)
Adir Getz – Ha'ikar She'ani Shar (Written by Adir Getz)
Yarden Tzur – Replace You (Written by Yarden Tzur)
Niki Goldstein – We Are One (Written by Niki Goldstein and Yaron Malachi)
Moran Mazor – Rak Bishvilo (Written by Hen Harari and Gal Sarig)
Among the hopefuls there are so many names that Eurovision fans may recognize such as Hila Ben David who entered the Israeli national final in 2010 and he was the winner of the Yerevan Is Calling music festival in Armenia last year. Niki Goldstein, who participated at the 2011 national selection, also returns just as Liran Notik who is back after not being selected last year.
You might also want to read:
Below you can watch our 3D video of Izabo's performance singing Time at the 2012 Eurovision Song Contest. As always, we strongly recommend watching this video in 3D to enjoy it to its fullest, but if you do not have a pair of suitable glasses this can easily be turned off in the player below to watch in regular 2D.