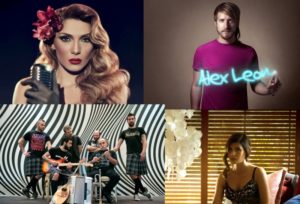 The four acts taking part in this year's Greek national final have been revealed today by the Hellenic Broadcasting Corporation (ERT) and the music channel MAD TV. For listening to their songs we will have to wait until the first week of February, when they will be released during a special event.
Four acts will be fighting in mid-February for the Greek golden ticket to the 2013 Eurovision Song Contest in Malmö. ERT, the Greek national broadcaster has announced today that Thomaï Apergi, Aggeliki Iliadi, Alex Leon featuring Giorgina and Koza Mostra with Agathonas Lakovidis will take part in the Greek National Final, Ellinikos Telikos 2013.
Two record labels from the country (Panik Records and Platinum Records) have agreed to the terms set forth by the broadcaster and they have joined the competition presenting two acts each which will be in the chance of representing Greece at the 2013 Eurovision Song Contest.

Thomaï Apergi is a woman with a Mediterranean flair from the island of Tinos. Her first audience were her parents, to whom she gave concerts every night while she was still a child. This 23 year old singer has a particular voice and her musical influences are quite diverse from the smooth jazz to the bossa nova, funk, soul or jazz music. She always tries to add a spicy touch to her performances with a warm smile that characterizes her.

Alex Leon is a multi-musician and artist. He grew up in an artistic family, who encouraged him to study piano for several years, but he quickly discovered that what he really liked was to play the keyboard and drums. He has been working in the music business for more than ten years using different artistic names and his passion for electronic music has led him to produce a large number of songs that have become hits. Throughout his career he has worked in various visual projects for DJs, singers, movies or television and radio commercials, but nowadays he is also working on his own project.

Aggeliki Iliadi was born in Athens and from an early age she learned to love the folk songs thanks to her grandmother. Her first professional appearance was in 1995 and she amazed the audience with her great stage presence combined with her charismatic voice which she inherited from her grandmother. She has collaborated with the most important names of the Greek music. Her first album was released in 2003 and to date she has released six more albums. Now she is working on her next studio album together with the live shows of cabaret with theatrical elements that she is performing alongside Sakis Rouvas (former Greek Eurovision representative in 2004 and 2009).
Meanwhile, the band Koza Mostra has revolutionized the audience in Greece and they have become undoubtedly one of the musical surprises of the last year. Their music is an explosive mix between ska, rock or punk.
The precise date of the national final is yet to be unveiled. So far we know that it will take place in mid-February but more information about that and also the release of the songs is expected to be announced within the coming days.
You might also want to read:
Below you can watch our 3D video of Eleftheria Eleftheriou's performance singing Aphrodisiac at the 2012 Eurovision Song Contest. As always, we strongly recommend watching this video in 3D to enjoy it to its fullest, but if you do not have a pair of suitable glasses this can easily be turned off in the player below to watch in regular 2D.