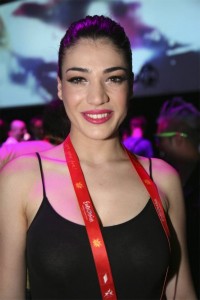 Ivi Adamou has returned with a new single and promotional video. The song is called Ase Me and features Kleopatra from the Stavento group. The song has an r'n'b rhythm with some rapping from Kleopatra. Ivi has also recorded a song with Spanish DJ, Marshall Ventura, due for release soon.
Ivi Adamou, representing Cyprus, was a very popular entry with fans and the public at the 2012 Eurovision Song Contest with La La Love.
Ivi has had a busy time touring countries such as Greece, Cyprus, Sweden and Spain and appearing on tv around Europe like Albania since Eurovision last May.  Her popularity increases all the time. 
Ivy first shot to fame on the Greek version of the entertainment show, X Factor.  She has released three albums so far,  Kalokairi Stin Kardia, Christmas with Ivi Adamou and San Ena Oniro.  The latter album was repackaged in 2012 to include her three songs from the Cyprus Eurovision national selection.  They were La La Love, Call The Police and You Don't Belong Here.
You can see the video for Ase Me below.

You may also like to read: