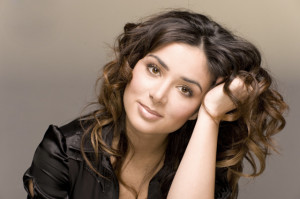 The Ukrainian national selection took place today in Kiev.  Zlata Ognevich has won and will represent her country at the 2013 Eurovision Song Contest in Sweden with Gravity.  20 songs were performed and voting was decided by a combination of sms public voting and jury.
The songs –
1. Oksana Pekun & Maxim Novytskyj – Zelenyj Dubochok 
2. Mary Yaremchuk – Imagine 
3. Marietta – Wonder 
4. Dmytro Yaremchuk – Mamo 
5. Inesh – Delayu Shag
6. Zlata Ognevich – Gravity 
7. Duet Emotion – Saviour 
8. Band Gvozdivchanka – Naletily Gusenyata
9. Real Ivanna – You Gave Me Everything 
10. Tetyana Shyrko – Feeling Like A Sir 
11. Band Triniti – Belym Po Belomu
12. Ana Stesia – Dare To Change 
13. Alina Grosu – Let Go 
14. Dasha Medova – Don't Want To Be Alone 
15. Olena Korneva – You'll Be The Winner Forever 
16. Angelia – Love Is Life 
17. Eduard Romanyuta – Get Real With My Heart 
18. Matvij Vermijenko – Otkryvaj Menya 
19. Band DiO.filmy – Medlyak 
20. Dmytro Skalozubov – Davno 
The Show –
The final was presented by Timur Myroshnychenko, Tetyana Vozheva and Tetyana Goncharova.
The winner of the 2012 Junior Eurovision Song Contest, Anastasiya Petryk, also took to the stage. 
After the performance of the first song by Oksana & Maxim they announced they would withdraw their song from the voting. No other reason was given for this decision.
The interval included group Gvozdivchanka who performed an ethnic song.
So finally after all the voting Zlata Ognevich was declared the winner and will represent Ukraine with Gravity at the 2013 Eurovision Song Contest.
You can see Zlata's performance of Gravity below. 

You may also like to read: