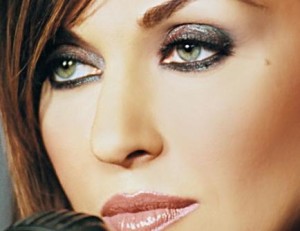 Katy Garbi has continuously incorporated traditional Greek music into her sound, with her Greek entry from the 1993 Eurovision Song Contest, Ellada, Hora Tou Fotos being no exception. After a short hiatus, the songstress is back with both a new record deal and a new single to mark the occasion.
Popular Katy Garbi ranks high up on the list of the biggest selling Greek singers of all time. Since her solo debut in 1989, she has managed to release an impressive seventeen studio albums, in addition to both compilation albums and singles. Following her participation for Greece in Millstreet and a respectable 9th placing, she hit the big time in her homeland, with album sales exploding. For the vast majority of her career Garbi was signed to the RCA/Columbia record label, later acquired by Sony Records, where she spent 24 years. An announcement came in 2010 stating that an amicable mutual agreement had been reached by both Garbi and Sony to part ways. The single Oi Skepseis was released in January 2010, heralding her crossover to rival music label Universal Music Greece.
Whether dissapointing sales of her subsequent album Pazl (Puzzle) were to blame remains to be seen, but after a brief hiatus of a year, Miss Garbi has announced her comeback and simultaneous return to Sony Records Greece. Her newest single released in December is entitled Pio Pano Apo Sena (More Over You). The song was written by Thanos Papanicolaou and composed by Vasilis Gabrilidis, with much respected producer Giannis Doxas also involved in the project. The single also sees Garbi return to a form of commercial Greek music known as Laïko. Doxas has also worked with Garbi previously, amongst other things on the 1994 album Os Ton Paradeiso (Until Paradise), containing her Greek Eurovision entry.
Welcome back Katy, you've been sorely missed! You can see a preview clip of her newest release below.
You might also want to read: