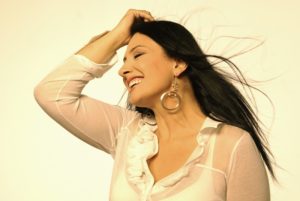 Kaliopi was very popular and successful at the 2012 Eurovision Song Contest with her song, Crno i Belo (Black and White).  Now the singer from FYR Macedonia has released a brand new song, Vucica (She Wolf) from her forthcoming album due for release in February 2013.
Kaliopi won a lot friends around Europe with her participation at the 2012 Eurovision Song Contest in Baku.  She gave a major performance of the FYR Macedonian entry, Crno i Belo. Now she is back with her new song, Vucica, from her new studio album.  The whole album has been written by her ex-husband, Romeo Grill.  The finishing touches are being applied to the album in Switzerland before release early next year.
Kaliopi and Romeo are very pleased with the results of the songs on the album.   They have found new inspirations to work together and the album should but Kaliopi firmly back in the spotlight not only in FYR Macedonia but in the rest of the Balkans and Europe.
The video (which you can see below) for Vucica is directed by Aleksander Ristovski Princ.  He also produced the official video for Crno i Belo.
For more information about Kaliopi visit her official website.