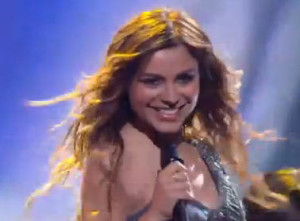 That broadcaster ERT was struggling financially to keep its head above water is no secret. We all have seen in the media what dire straits the Greek economy is in. This year's Greek selection was scaled down enormously. Cyprus has been similarly affected and the participation of both countries is now unlikely according to numerous European media.
 
The Eurovision Song Contest has long been a means for many to escape the harsh realities of everyday life. For a few hours on a Saturday evening in May, ordinary people were able to put their woes and worries aside and instead let their hair down and join in on the party. But everday life seems to be gradually seeping into the glitzy bubble that is Eurovision; fans were given a preview of things to come with this year's Greek entry, with the production of the national final being cut to a minimum and with a shopping mall as host venue to Eleftheria Eleftheriou and her winning entry Aphrodisiac.
The alarming number of withdrawals has been mentioned in numerous media sources, such as Dutch news site nu.nl and British newspaper The Guardian. At the end of November, both Poland and Portugal announced that they wouldn't be represented on stage in Malmö, the first time in many years for Portugal and the second consecutive year for Poland, citing the economic crisis and budget cuts as the reason behind their decision to withdraw. A spokesperson from broadcaster ERT stated that the company found it "highly inappropriate. It's not just that we don't have the funding for the cost of participation and broadcasting of the event (EUR 120,000) but at this point in time, it would be morally irresponsible."
Greece and Cyprus are inextricably linked in many ways, also economically, so it comes as no surprise then that the current Greek woes also signify a possible withdrawal from Cyprus. Head of the national broadcaster PIK is quoted as saying that "Given the current economic situation of Cyprus, the decision by PIK to participate in such an event would be deemed by many as an outrage." Both countries have yet to officially confirm their withdrawal, but it is unfortunately looking more and more likely. Will the current bout of economic flu that causes a runny state economy and financial headaches for many force any other countries to call in sick? Both Bosnia & Herzegovina and Slovakia have yet to confirm their participation.
If indeed both PIK and ERT do confirm their withdrawal, it will be the first time since 2000 that Greece and the first time since 2001 that Cyprus hasn't taken part. Both Cyprus and Greece made it to the final in Baku earlier this year, coming 16th and 17th respectively with La La Love by Ivi Adamou and Aphrodisiac by Eleftheria Eleftheriou.
You might also want to read: