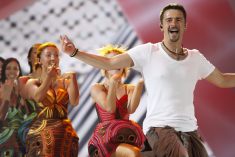 49 artists and 126 songs were entered for the 2013 Moldovan national selection. An expert jury narrowed down these numbers to 24 singers and 60 finalist songs among which each artist may choose, which one they would want to perform for Malmö.
The Moldovan broadcaster, TRM, has announced the names of the twenty-four singers who will participate at this year's national selection for the Eurovision Song Contest. Among them we find some of those artists who want to try once again to represent their country at Eurovision after having failed in the past such as Boris Covali, Doiniţa Gherman and Cristina Croitoru & Karizma. Another candidate is Aliona Moon, who was one of the backing singers of Pasha Parfeny at last year's Eurovision Song Contest. In fact, it has already been confirmed that Parfeny himself has composed a song especially for her titled A Million.
Songs and singers were selected by an eight-member expert jury composed by former Eurovision representatives Nelly Ciobanu (2009) and Geta Burlacu (2008) besides other singers, composers and music teachers such as Vladimir Beleaev, Valentin Boghean, Tatiana Cerga, Valentin Dinga, Victoria Tcacenco or Nicu Tarna. Selection criteria that were taken into account were: original song, song composition, voice and performance besides the requirements of the regulation and selection results were certified by notary Viorica Nagacevschi. After more than seven hours of listening and debate, the jurors picked 60 tracks and 24 artists, to proceed to the next round of the national selection for Eurovision 2013.
Here are the names of the lucky ones:
• Anna Gulko
• Inaya
• Felicia Dunaf
• Cristina Scarlat
• Stela Boţan
• Vitalie Negruţa
• Doiniţa Gherman
• Irina Taraşiuc
• Aliona Moon
• Fire Love
• Ruslan Ţaranu
• Cristina Croitoru & Karizma
• Aurel Chirtoacă
• Alexandru Şendrea
• Svetlana Bogdanova
• Boris Covali
• Cristina V.
• Tatiana Heghea
• Denis Latîşev
• NiCo
• Irina Chitoroagă
• Vitalie Maciunschi
• Dara
• Valeria Paşa
The song titles have already been released, but who will sing each song and the names of the composers will be known in the coming days. Now, the 24 finalists will have a few days to choose a song from the list of 60 proposed tracks. As soon as each of the artists make their choice of song it will be posted on the official website of the broadcaster. So far, there are three artists who have confirmed their choice. They are: Boris Covalli who will sing Runaways, FireLove with Just Smile and Paşa Valeria who picked a mid-tempo song entitled Show Me Your Feelings.
Once each of the artists have their song we will enter the next phase of the selection process with two semi-finals scheduled to be held on 26 and 28 of February. The order of performance at the semi finals will be decided by drawing lots. Those lucky enough will qualify for the final to be held on March 2nd in the studios of the public broadcaster, TRM and then the winner, who will represent Moldova in the Eurovision Song Contest, will be elected through a mixed system of jury and televoting.
You might also want to read:
Below you can watch our 3D video of Pasha Parfeny's performance singing Lăutar at
the 2012 Eurovision Song Contest. As always, we strongly recommend
watching this video in 3D to enjoy it to its fullest, but if you do not
have a pair of suitable glasses this can easily be turned off in the player below to watch in regular 2D.