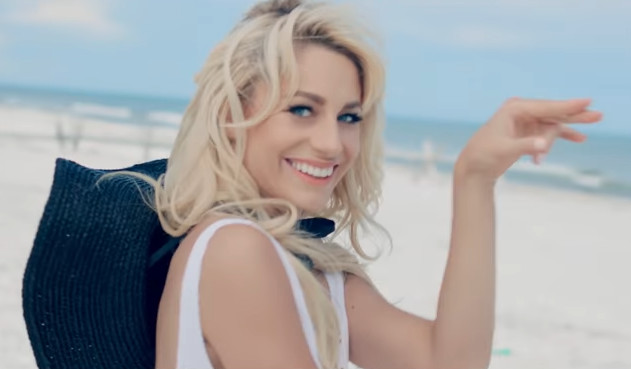 Natalia Gordienko represented Moldova at the 2021 Eurovision Song Contest. It wasn't her first participation, but this Moldovan superstar has more than just Eurovision to offer.

Natalia has a voice that is fit for both ballads and uptempo songs. Nonetheless, we can see that she prefers uptempo danceable songs like her 2016 single Habibi featuring Mohombi, the Swedish-Congolese artist we know from the Swedish national selection, Melodifestivalen in 2019 and 2020.
Unlike her 2020 Eurovision-could-have-been-entry Prison, Habibi is an energetic, upbeat summer song. If we compare it to Natalia's 2021 Eurovision Song Sugar, the two songs have many things in common as they're both up-tempo, danceable songs. However, in Habibi, Natalia did not show the wide range and power of her voice as she did in Sugar.
Habibi – opinions from fans
In order to find out what Eurovision fans think of this song from Natalia Gordienko, we asked our Eurovision Fan Panel. It includes team members as well as fans from all over the world.
🇬🇧 Michael O. – This is the old looking Natalia before she found some Sugar, would have equally been fine as a Senhit and Flo Rida song. I didn't realise she had quite a wide musical catalogue. Pleasant enough to listen too.
🇩🇰 Charlotte J. – I much prefer this to her Eurovision entry Sugar. This isn't bad. I actually sort of enjoy it while it lasts, but it's not one, I would seek again. I would get quickly get annoyed at the oriental sound, which I can only tolerate in small doses. Their voices match each other well, and that's the strongest key-point with this song.
🇦🇺 Michael R. – This is a pretty good song. There's nothing special or remarkable about it's just a really good piece of Arabian-themed pop. Natalia's voice lends really well to this style as well.
🇳🇱 Vica K. – This song is giving me summer vibes. I would prefer this over Sugar. I feel that she is more comfortable in this song than she was with her 2021 Eurovision entry. With summer break coming up, I will add this to my summer playlist.
🇬🇷 🇬🇧 Theo V. – I like the combination of eastern and reggaeton elements. A slight criticism regarding the video would be that the locations used, though beautiful, do not look exotic enough to match the vibes of the song for me (that is the case even when Natalia and her friends are supposed to have reached their seaside destination). Other than that, the track itself is pleasantly light and summery.
🇨🇿 Josef S. – Those dance tracks really suit Natalia well. Musically, there are some interesting parts in the song, but when I sum it all up together, it's just an average song, nothing really special besides those national instruments in the backing track. Mohombi's parts are too short to be a highlight. But OK, lets at least admit that Natalia is really beautiful woman which is always a good thing. 🙂
🇳🇱 🇩🇰 Wouter V. – This song has me utterly confused. A Moldovan singer teams up with Swedish/Congolese singer to perform a song with an Arabic title and Turkish sound. Not that any of that really matters, when the result is as enjoyable as this song. No masterpiece, but certainly worth listening to.
🇮🇹 🇬🇧 Maurizio V. – This is a summer song. I can picture people listening to this while they drink cold mojito on the beach. Natalia is a good singer and I like her voice in this. Despite being catchy and summery, this song is also fairly forgettable. Yet I would listen to it in the scenario I described before.
🇹🇷 Gunec G. – I love summer, I love energizing summer songs like Habibi from Moldovan superstar Natalia Gordienko featuring the Melfest star Mohombi. The video wants me the hop in the car, drive away and visit places like that (I have many in my country). The song does not get you bored until the end which is a good thing. I think this is much better than Sugar. And of course, Natalia is one of the most beautiful women on the Eurovision stage, no doubt about it.
Enjoy Natalia Gordienko's Habibi in the embedded video. Below the video, you can read more about her.
Natalia Gordienko

– a mini biography
Natalia Gordienko (also known as Natalia Gordienco, DJ Tasha, Natalie Toma and Natașa Rostova) was born on the 11th of December 1987 in Chișinău, Moldavian SSR. She has Ukrainian roots.
Her artistic career started at a music school, singing in the school choir, dancing in the school dance group and studying piano. She began participating in song contests and festivals at the age of 15. She joined the band Millenium in 2005 as the singer of the group.
In 2016, she represented Moldova in Eurovision Song Contest along with the group Arsenium. They placed 20th with 22 points. In 2020, she was set to come back. She won the Moldovan Eurovision final in 2020 with her song Prison, written by Philip Kirkorov. When the contest was cancelled due to Covid-19 pandemic, she was not able to get on the Eurovision stage for the second time. Luckily enough, she was internally chosen to represent Moldova for the 2021 Eurovision Song Contest. She represented Moldova with another Kirkorov song, Sugar. This time, she passed the second semi-final with 179 points placing 7th. In the grand final, she took the stage 14th in line, received 115 total points and placed 13th.
Gordienko has won numerous musical awards and titles (like Miss Teenager in 2004) throughout her life and has been releasing singles since 2006.