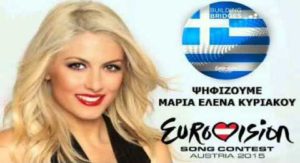 Greece has chosen Maria-Elena Kyriakou as its participant for the upcoming 60th Eurovision Song Contest. The artist outperformed four other entrants with her song One Last Breath and went on to win the Greek national final, Eurosong 2015. The Cypriot-born artist thus gets the ticket to represent the country in Vienna this May.
This was the third year in a row that the Greek national final followed the Eurosong format, a collaboration between the country's state broadcaster NERIT and commercial channel MAD TV. The full title of the show, Eurosong 2015 – a NERIT and MAD show (60 years of music), hinted to this collaboration as well as to the 60th anniversary of the Eurovision Song Contest this year.
The line-up for Eurosong 2015 was announced back on 17th February and the five competing songs were released in full a few days later on 26th February. It is a female dominated line-up consisting of three solo female artists, a male solo artist and a group fronted by a female singer. The male entrant is a relative newcomer in the Greek music scene whereas the rest of the artists include a former Greek national final entrant, a The Voice of Greece winner, a half-Dane with a number of hits under her belt and a well established pop/rock group. You can find out more about the Eurosong 2015 entrants here.
The songs:
C:REAL – Crash And Burn
C:REAL is an experienced pop/rock group with numerous albums released in their 19 year career. Crash and Burn combines pop, rock and dance elements with a hint of bouzouki which, towards the end of the song, turns into a full blown solo performed by a surprise young bouzouki player. The five members of the group look the part, appearing all stylish and confident but kept predominantly in the background. Lead singer Georgia Lazopoulou, in her revealing outfit, has a strong stage presence even though there are some uncertain notes, especially in the beginning. The melody of the song is quite predictable however and the entry as a whole does not fully satisfy fan expectations from the group.
Thomai Apergi & Legend – Jazz & Syrtaki
Thomai Apergi previously took part in Eurosong 2013 where she was noticed for her talent as a performer. Being a Greek singer with a strong musical background in Latin genres, Thomai's Jazz & Syrtaki seems tailored for the young artist. It is an up tempo song that starts quite dynamically and is reminiscent of a Bouzouki/Latin musical mix that was particularly popular in the 1950's and early 60's in the country.
Thomai herself, with her characteristic Mediterranean look and strong stage performance, is unlikely to go unnoticed by audiences. There had been much speculation as to the singer's frock for the night, a creation by Greek fashion designer Celia Kritharioti whose clients include Jennifer Lopez and a certain Kim Kardashian. This turns out to be a long low cut trouser suit.
Thomai's vocal performance was a bit shaky to start with, but she gained in confidence as the performance progressed. She was joined in stage by dancers. About three quarters in, the song breaks into a bouzouki section, performed by the song's composer.
This is a fun song – the only one in the line-up wholly sung in Greek – that had quite some following with the public in the days leading up to tonight's final.
Barrice – Ela (Come)
Russian-born Barrice is the only male act tonight. He has the right look and, what is more, this is combined with strong vocals. His song, Ela, is a dance number likely to appeal to fans of last year's Greek Eurovision entry, Rise Up. It has a very catchy chorus that gets repeated (a bit too) often and succeeds not to be easily forgotten.
Barrice and his four backing female dancers are wearing dark suits with assymetrical cuts. The song starts strongly but perhaps wanes a bit (vocal performance included) during the first bridge. Two thirds into the performance there is yet another (seemingly compulsory) bouzouki section for a splash of extra 'Greekness'. However this is not realized as seamlessly as with some of the other entries tonight and the bouzouki bit might take a few hearings to get used to for some. The song builds up to a dynamic finish and gets a warm reception from the audience. This has been another song with a following, especially among Eurovision fans.
Shaya Hansen – Sunshine
Shaya, who is of Danish/Greenlandic/Guyanese descent, is well known in Greece, both as a member of girl band Hi-5 (a product of the Greek edition of talent show Popstars) as well as a solo artist. Sunshine's start is reminiscent of Emmelie de Forest's Rainmaker, the interval act number of last year's Eurovision grand final; the distinct difference with the intro vocals here is that we get 'eh-ah's instead of the 'way-a's used in Rainmaker.
Shaya misses her cue at the beginning of the song however she is an experienced artist and she quickly picks up. She is initially in a white long cape-like frock. There is no bouzouki here; instead, there is a drum player and a clarinettist (the clarinet being a major fixture in Greek folk music though not as popular with tourists as the bouzouki). There are two female dancers performing next to Shaya throughout; early in the number, they take off the long white dress Shaya is initially wearing to reveal a skimpy fringed outfit underneath.
The presentation works better when the two musicians are in the frame. There are sleek moments but the presentation does not always manage to convey the fun feel of the song. There is also a fair amount of shaky notes. This is another entry where attention has been paid to the musical production yet the song sounds a bit formulaic when initially heard. Sunshine has been tipped as a favourite by some Eurovision fan clubs.
Maria-Elena Kyriakou – One Last Breath
Cypriot Maria-Elena is still fresh in the consciousness of Greek audiences as the winner of talent show The Voice of Greece. There are no traditional elements here: One Last Breath starts with a piano and Maria-Elena's beautiful voice. There is an instant sense of class with this ballad that carries on throughout the performance. No shaky bits here, Maria-Elena's singing is spot on from the very beginning.
The singer is wearing a long red dress and looks radiant on screen; her pianist is in the background. Apart from her strong vocal performance, Maria-Elena is also visually expressive in a way that enhances the overall feel of One Last Breath. The song takes a bit too long to build up but, when this happens, it does achieve an affective result, reinforced in this live performance by some dynamic lighting effects. This is arguably the best vocal performance and sleekest presentation of the night and gets a very warm reception from the audience. A popular entry with fans of big voice ballads, it will also get the Cypriot vote.
The show:
Eurosong 2015 took place at the Enastron music hall and was presented by actress Doretta Papadimitriou and TV presenter Mary Synatsaki. Indeed, the show was introduced by comic video clips of real-life friends Doretta and Mary getting prepared for the final with guest appearances by past Eurovision entrants such as Bessy Argyraki (Greece 1977, 5th place), Elpida (Greece 1979, 8th place), Konstantinos Christophorou (Cyprus 1996 & 2005, 9th and 18th place respectively). The two presenters also surprised the audience later in the show with a dance routine set to Dana International's Eurovision 1998 winner song Diva.
The five competing acts of Eurosong 2015 were introduced on stage with a joint rendition of Helena Paparizou's 2005 My Number One, the only song to have won Eurovision for Greece. They also marked in this way the 10th anniversary since the song was selected in the then Greek National Final.
One of the most memorable moments of the show occurred when Helena Paparizou sang a rendition of current Eurovision winner Rise Like a Phoenix. Accompanied by a pianist, Helena did give a very strong vocal performance of Conchita Wurst's anthem.
Other highlights included a special reunion of disbanded boy group One (Cyprus 2002, 6th place) as well as performances by Thanos Kalliris (one half of group Bang, Greece 1987, 10th place), Loukas Giorkas (Greece 2011, 7th place) and last year's Greek representatives Freaky Fortune and RiskyKidd in a special rendition of their entry Rise Up. This year's Cypriot participant, Giannis Karagiannis,was also there to perform his entry, One Thing I Should Have Done.
The hall was just the right size for an intimate yet sparkly atmosphere. NERIT, despite its well documented problems, did manage to produce a well-prepared, fairly sleek show. As in previous years, it was perhaps longer in duration than five entry songs justify, but there was enough content to keep the interest of Eurovision fans.
The result:
The result was based on a 50% contribution from tele-voting and a 50% contribution from a seven-member jury vote including Marianna Efstratiou (Greece 1989 & 1996, 9th and 14th place respectively).
Only the winner is announced and this is Maria-Elena Kyriakou and One Last Breath.
Greece in the Eurovision Song Contest:
Maria-Elena Kyriakou will be the 37th entrant for Greece since the country joined the Eurovision Song Contest back in 1974. After a popular start with decent rankings, Eurovision consequently went through a phase of relative unpopularity in Greece. Things changed for the better in 2001 when bouzouki pop duo Antique (the lead singer of which was Helena Paparizou) achieved a third place, which was the best ranking for the country up to that point. This was succeeded by a series of popular entrants and good rankings that culminated with Helena Paparizou's Eurovision victory in 2005 (this time as a solo artist). By that time, Eurovision had already become by far the most popular light entertainment program in the country with extensive media coverage. Greece scored two more third places, in 2004 with Sakis Rouvas and 2008 with Kalomira , making it the most successful Eurovision participant country of the 2000's along with Russia. Greece, Russia and Romania are also the only countries never to have missed a final since the introduction of semi finals in 2004. Indeed, Greece has managed to rank inside the final top-ten in nine out of the eleven last contests; one of the two exceptions occurred last year when Freaky Fortune feat. RiskyKidd made it to the final with their song Rise Up but only managed one of the worst results for the country finishing 20th out of a total of 37 competing countries (semi finals and final). Maria-Elena has therefore quite a demanding track record to live up to with her participation in the 60th Eurovision Song Contest, although perhaps not quite as intimidating as her immediate predecessors. Greece has been drawn to compete in the first half of the first semi final on 19th May.
You can watch Maria-Elena's winning performance of One Last Breath in the following video.
You might also wish to read: