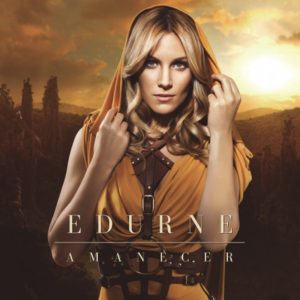 Back in January, Edurne was selected internally to represent Spain at the 2015 Eurovision Song Contest. Today, it is time to get to know the song that she will perform in Vienna. It is called Amanecer, which means Dawn, and it is composed by the Swedish team of Tony Sánchez-Ohlsson, Thomas G:son and Peter Boström.
A few weeks ago Edurne was presented as the Spanish entrant for the 2015 Eurovision Song Contest. Since then, we have been eagerly awaiting her song presentation which was held this afternoon on the Spanish broadcaster's website.
Edurne stated, "I was looking forward to this day for so long. I believe in the magic and essence of the song which has very racial and ethnic sounds that go straight to the heart of anyone who listens to it".
Amanecer is a very powerful song about a universal topic, heartbreak. Lyrics speak about how you feel lost and hurt when your love is gone, the suffering caused by a lost love and a love story that ended up in a way no one expected. It has dark melodies which remind us how it feels when you lose the love of your life, but you tries to heal the wounds, to see the dawn again. The song has a great duality between the darkness and the pursuit of happiness in a journey to the light. It is a heartbreaking cry of pain but also of strength and overcoming the adversity with a desire for self-improvement.
It has some slight epic touches with a great introduction and an extremely catchy chorus.
When asked about what is her favourite line of the song, Edurne says "yo no me rindo" which means "I do not give up".
The production of Amanecer has an epic dimension. The song has been recorded between Stockholm, Barcelona and Madrid. It was very well arranged by one of the most experienced teams of Spanish and Swedish producers together with the instrumental resources of RTVE's Symphony Orchestra conducted by Pepe Herrero.
The official video will be premiered on the 9th of March, but now you can listen to Amanecer and watch the lyrics video on RTVE's Eurovision website.
You might also like to read: