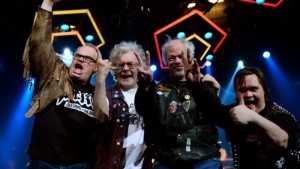 Under the name Uuden Musikiin Kilpailu, in general just shortend to UMK, Finland tonight selected their participant for the 2015 Eurovision Song Contest. After three preliminary heats a total of nine acts were left competing in the final, which was won by Pertti Kurikan Nimipäivät. 
Nine acts qualified for tonight's final in Finland via three preliminary heats. Those nine acts then had to meet each other in the final where only one could be the winner. That winner will represent Finland at the 2015 Eurovision Song Contest.
Before tonight's final of Uuden Musikiin Kilpailu, UMK, in particular two of the acts had been getting a lot of international attention: 
Pertti Kurikan Nimipäivät, which made it to nationalwide medias in several European countries due to the fact that all members of the band have down syndrome. Only once have a Finnish act been getting so much attention before a national final: in 2006 with Lordi.
Satin Circus, which mainly spread international due to that it is the song that many international fans prefer Finland to send to Vienna for the Eurovision Song Contest.
It is also these two acts the bookmakers believe most in. In a poll on broadcaster YLE's website it was however Järjestyshäiriö that receieved 75 % of the cast votes. So as we have seen before, anything can happen in a national final. Nine acts competed and as such all had a chance to win. 
The songs: 
Shava – Ostarilla
This would be an unusual entry should it make it to the Eurovision Song Contest. It is bhangra music which was developed in Britian, but based on the Punjab region of India and Pakistan. It is colourful and centeret around a 1970's hippi mini van. It is clear that this performance can't be copied for Eurovision as it is impossible to count how many actually are on stage, but it sure is more than then allowed six. This one certainly stands out, but will that be enough for the Finnish TV viewers?
Satin Circus – Crossroads
This is the fan favourite. A modern electric pop song with hints from folk and rock music. It is with a chorus that is easy to hum, to sing along to and is one of those "safe" songs which rarely falls completely as it appeals widely. Adding a great performance and you have something which looks like a strong candidate to win tonight. They did deliver that strong performance based on a great energy which sure got the audience all awake. Plenty of pyrotechnics were used near the end of the song.
Solju – Hold Your Colours
Two very different music styles as well as two very different cultures, that's being mixed here by a mother and daugther Lapland duo. The daugther delivers a modern pop song dressed as modern young girl. She is joined on stage by her mother who brings a traditional sami song dressed as very traditionally in sami folk style. It is like they are singing two songs, and not everyone will like this. It has its great moments where it is well done, but it lacks a better production for this combination to really work enough to win. 
Järjestyshäiriö – Särkyneiden Sydänten Kulmilla
A pop song added elements from rock, punk and electro, that's what we have here. It is heard before, but it still sounds fresh and if you give it English lyrics, it could appeal outside Finland… but with that name the band also has to be prepared to hear thousands of different versions of their name. They delivered a good performance and this could very well be what the Finns go for. It is at least what the younger audience like, but it will be in competition with Satin Circus for those votes.
Norlan El Misionario – No Voy A Ilorar Por Ti
It is probably not all Finns who actually understand what this song is about as it is sung in Spanish. Norlan is originally from Cuba and that shows in this song which is a pop/rap song with a clear influence from latin music. On the stage there is a lot going on, so much that it actually distracts making it hard to focus on the song – even if you do understand Spanish. 
Opera Skaala – Heart of Light
A clothes change on stage in form of a dress rip and plenty use of the windmashine. For those who thinks this is typical Nordic Eurovisionshlager, it is not. Finland has before sent unusual entries to the Eurovision Song Contest, and this would be another one of those, if it wins. It is opera mixed with electro pop, and though we have seen it before, it isn't that common and certainly one that will stand out. 
Jouni Aslak – Lions and Lambs
Here we have one who has a record deal in Sweden, and maybe thats why this song sounds like an MF rejection. It is a song which mixes between quiet verses and a Scandipop chorus, which is begging for people to both sing and clap along at the same time as they get up for dancing. When the chorus then is being followed by another quiet verse, those emotions from the audience are immidiately stopped again, which does comes across a bit odd as you then want the audience engaged 20 seconds later again. 
Pertti Kurikan Nimipäivät – Aina Mun Pitää
Due to all band members having down syndrome and a TV documentary being made about them, this song has been getting lots of attention, probably also more than it deserves as music wise there isn't that much in this punk rock song which furthermore is extremely short with just 1 and a half minute. Due to their handicap we naturally can't expect the same from these guys than from the others, but as they are taking part in this competition they should be judged on same terms and if they are that, this entry can't get a top placement. If we do judge them on their terms it is however great to see that they have the courage to do this and then we look aside their performance and missing connection to the audience and each other during the performance.
Angelo De Nile – All for Victory
So how far is Angelo ready to go for victory tonight? He is certainly coming with an extremely strong impression in his performance which has a clear Roman anthique history theme on stage. Maybe his impression is so strong that it actually becomes too much. It is power song which requires a lot from his voice as if he isn't 100% in control it easily sounds like he is screaming. A lot is going on during the performance, but it fits with the strong impression he has and you are back to believing in that only the strongest one survives. Question is now if the Finnish TV viewers believes that he is the strongest.
The show:
The final of UMK 2015 were held in a TV studio, which gave a smaller stage and less autience, but an atmosphere where the audience was closer connected to what happened. The show started at 20:00 CET and opened with a song and dance act by the hosts which involved the audience as well. After that the participants were presented one by one.
EBU's executive supervisior of the Eurovision Song Contest Jon Ola Sand was in the audience, and he was asked to describe the Finnish Eurovision history in three words. He said: Hard Rock Hallelujah.
As interval act the TV viewers were treated with a ballad where all focus were on dancers just in underwear and with words written over their body. An interesting performance. After the jury votes were given we were given a couple of performances from Softengine, which incuded their Something Better, which represented Finland last year. This time it was however the ballad version we heard.
The result:
The past three years Finland has used juries consisting of music professionels. They have been cancelled giving the TV viewers more power. Regional juries will be used, but they consist of regular people with a demographical spread. These regional juries decided 10%, the TV viewers the remaining 90%. 
1st jury: 12 points to Solju
2nd jury: 12 points to Pertti Kurikan Nimipäivät 
3rd jury: 12 points to Satin Circus
4th jury: 12 points to Opera Skaala
5th jury: 12 points to Satin Circus
6th jury: 12 points to Satin Circus
7th jury: 12 points to Satin Circus 
With the TV viewers deciding 90% they however could easily change the result if they wanted to as the 73 points to Satin Circus from the jury only equaled to 2,1% and that they did want to change.
The TV viewers top3:
6,7% to Opera Skaala
24,2% to Satin Circus
36,2% to Pertti Kurikan Nimipäivät who then wins the Finnish ticket to Vienna. 
Finland at the Eurovision Song Contest:
In 1961 Finland joined the Eurovision Song Contest, but it wasn't until 2006 with Lordi that Finland got their first and so far only victory. The country has placed last a total of nine times and even three times suffered the dreaded zero points and looking aside that victory in 2006, we have to go back to 1989 to find a top10 placement. They didn't qualify for the final in 2004, 2005, 2010 and 2012.
This year's participant will try to improve these numbers from a starting position in the first half of the first semi-final. It is a semi-final where they might have to rely on good points from Estonia and Denmark in order to qualify.