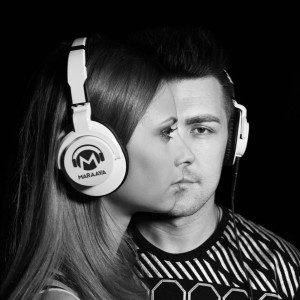 Tonight in Ljubljana the Slovenian entry for this years Eurovision was decided by public vote. With the song Here for you, Maraaya, a duo made up of Marjetka and Raay will now aim to follow in the footsteps of last years Finalist Tinkara Kovač.
In tonights live show there were 8 finalists vying for a place in the second semi final to be held in Vienna on Thursday 21st May next. The full list of entrants as below took to the stage:
Alya and Neno Belan – Misunderstandings
Tim Kores-Kori – Once Too Many Times
Jana Šušteršič – Glas Srca
I.C.E. – Vse Moguče
Clemens – Mava To
Maraaya – Here For You
Rudi Bučar – Šaltinka
Martina Majerle – Alive 
All the acts above performed in the show initially with two then advancing to the later stage of the final, in a head to head battle to be crowned winner and national entrant 2015. The acts which proceeded to the head to head were Marraya and Rudi Bučar. Maraaya polled 7,311 votes to Rudi Bučar's 5,449 votes making it quite a convincing win for the duo.
Slovenia at the Eurovision Song Contest
With twenty attempts over the past 22 years Slovenia is yet to secure a win at the contest. They made there debut at the Millstreet contest in 1993 along with Croatia and Bosnia Hertzigovina. In 1995 and again in 2001 the country managed 7th placing on the final scoreboard. Last year in Copenhagen Tinkara Kovač advanced to the final with the song Round and Round, which finished at number 25 of the 26 songs in the show.
To see the entry click on the video below to see Maraaya with the 2015 entry Here for you